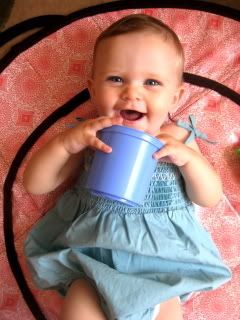 Ask any mom and I'm sure she has a short (or long) list of baby items she couldn't live without. At the top of my list is my Patemm Pad. I am now on my second one and it has turned out to be my go to for all baby shower gifts and I have yet to hear anything but rave reviews from all the receiving moms.
Patemm Pads were created by a mom who found that those small, rectangle pads that most diaper bags come with just did not do the job. The roundness of the Patemm Pad is genius! It guarantees, even with a squirmy moving little one, that their booties will be on the pad and not off to the side and touching the oh-so-gross public changing station (eeewww!).
The Patemm Pad also has pockets all around the edges to hold wipes, diapers, butt paste and even a change of clothes. As my children have gotten older, I no longer need a diaper bag, I simply grab my Patemm Pad and we're off!
Available in wonderful and colorful patterns and even in organic cotton, you are sure to find one that suits your tastes.
Visit www.patemm.com for more information.
Pricing depend on sizing and style.