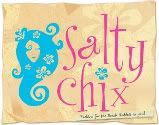 Growing up in the beach cities of Southern California and now loving the beautiful beaches of Hawaii, I am proud to say that I am a salty chick. Whether you love to sit on the sand and work on your tan or be out in the surf, it's time to claim your Salty Chix status!
Diane Cernese has created an awesome line of girls clothing to do just that. Salty Chix is a mom owned clothing company that specializes in relaxed beach inspired clothing and jewelry for women. The Salty Chix collection includes tanks, shorts, dresses, shirts, hats and beautiful jewelry. These are the type of clothes that you can wear to the beach and then get comfy in after the beach.
From their site….
"We are about loving the ocean. It can be the Atlantic ocean, the Pacific ocean, or the Caribbean sea….We all share the same passion, our love for the beach. Let's all be inspired by the oceans beauty and have fun with our own unique style. Be Bold, Be Beautiful, Be Authentic! Take a bit of that ocean loving feeling home. Enjoy your Salty Chix beach fashion and lifestyle."
Salty Chix has graciously offered to sponsor a giveaway. To enter is easy…Just visit the Salty Chix website. Take a look around, (don't miss the beautiful shell belts!) check out all the cuteness and tell us which you like better, the Emily or Megan tee.
Post your fave in the comments section by midnight Hawaii time on July 20th. A winner will be chosen at random and will receive either the Emily or Megan shirt and a super cute vintage pink trucker cap. Wow, that's a pretty awesome prize! The winner will have three days to claim their prize. Visit www.saltychix.com today!