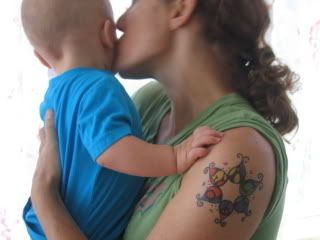 I got my first (and only to date) tattoo when I turned 18.  My best friend and I headed to the tattoo shop one day after school.  We each got a butterfly (yes, I know, how original, huh?  But I love it still!)  I often think now of getting another one but so far I haven't found anything that I love enough to commit to a lifetime on my body.
That is why, I was excited to find
Mother Ink temporary tattoos
!  Not only are these hand-designed tattoos cool looking, but they are made of  FDA-approved, vegetable based inks. And the best part…they come off! Perfect for commitment-phobes that want a little extra body accessory.
No pain, no commitment, but ALL fun and stylish,
Mother Ink Temporary Tattoos
come in an awesome assortment of designs. And they'd be great to put on a beautiful pregnant belly for maternity pics for the wild or hip mama.
Giveaway!
Right now, Mother Ink is sponsoring a giveaway on Ohana Mama. They are giving away
3
 multi-packs (5 tattoos in each pack) to
3
Ohana Mama readers!
Head over to
Mother Ink's website
and check out these cool tats.  Come back and leave a comment on which one is your favorite.
Extra Credit: (leave a ne
w
comment for each that you do)
-Have an idea for a design that you'd like to see Mother Ink make?  Leave another comment sharing your idea! Maybe they will make it in the future!
-Blog about this giveaway with a link to Ohana Mama and Mother Ink
Deadline:
9/23 at midnight Hawaii time
US residents only