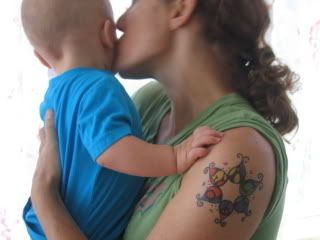 Congratulations to the following three Ohana Mama readers! You each will be receiving a multi-pack of Mother Ink temporary tattoos!
Random Integer Generator

Here are your random numbers:

53, 74, 54
Timestamp: 2008-09-24 17:35:57 UTC
Our Winners:
1. Erma said… 53
My favorite is the feminine floral! Thanks

2. Gina said… 74
I also blogged ya!
HERE

3. Becca said… 54
The lovebirds tattoo is so pretty. Thanks!
Mahalo Mother Ink for sponsoring this contest!
If you weren't chosen, you can still be a winner! Mother Ink is offering free shipping when you purchase between now and Saturday, 9/27. Just use the code "
ohanaship
". Now, that's a great deal! Go get yours NOW!
www.motherink.com