There's a new award being sent out over the blogosphere! 

And it's all about spreading the Aloha! 

If you've received this award it's because someone thinks you are part of their Ohana (community or family). You exude the spirit of aloha…you are friendly, full of love, sharing and have a helping attitude.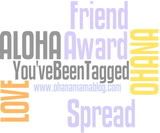 What to do:

First, answer this qustion…
If you were stuck on an island, what 5 things would you want to have with you?

Then, spread the Aloha! 
Send this award to 5 other people and let them know they've been given The Aloha Award!
That's it, easy peasy! 
Keep the chain going and spread the aloha all over the blogospshere! (be sure to link to the person that sent you the award…so we can keep the linky love going!)
Since I'm starting…My 5 things I'd want if I was stuck on an island…
1. My family 
2. Water
3. Music
4. A lighter
5. An airplane to get off the island…eventually (after a long, long vacation! ;) )
I am spreading the aloha and giving this to some of my bloggy Ohana …