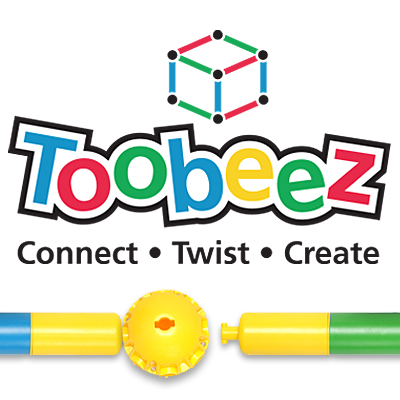 The answer in our house is a boisterous, hands down, screaming at the top of their toddler and preschooler lungs,
TOOBEEZ
!  
These wonderful life sized tinker toys were a fun activity for our whole family to put together.  And I do mean the WHOLE family.  My parents were staying with us when the ginormous box of Toobeez arrived.  Right away we all started putting them together.  There we were, all gathered in our living room – Grandparents (in their late 50s), us, the Parents (in our 30s) and our keiki (my son is 4 and daughter is 14 months) – all creating awesome, giant, play sets. and we were loving it!  Everyone was having a blast and helping one another.  
Our fave creations were the clubhouse, which included a covered roof and door (to keep us "uncool" parents out, I suppose).  The pirate ship was my son's fave – Daddy made it with a sail and a wheel for him to steer – Cam was screaming, ahoy matey, while my daughter squealed.  And lastly the helicopter, with both a front and back propeller – it was huge and quite a sight!  Yes, Toobeez were definitely a hit in our house!  
What I especially love about Toobeeze (other than the fact that they offer hours and hours of fun for my kids) is that we put it together as a family.  Then afterwards my son really uses his imagination, whether it's acting out as a pirate or being a pilot of his helicopter or asking his 14 month old sister for her password to enter his clubhouse that we made out of Toobeez (it's all too cute!)
Toobeez are made of different sized plastic tubes that snap together using a ball.  These balls allow you to create rectangles, triangles, you name it…and see that…they teach your kids about shapes too!  And to top it all off..this is for the moms…the set came with a duffle bag that contains and carries all the parts.  No random loose pieces to be lost forever!
I would definitely say you need to add Toobeez to your holiday gift list!  Promoting teamwork, learning to problem solve, teaching shapes and colors, promoting imaginary play and best of all bringing us as a family together…what a fantastic product!
SAVE!
Special Limited Time Offer!  Purchase a 57 piece TOOBEEZ kit for just $99.99 and receive:  
An additional 15 piece kit ($24.99 value)

The Big Idea Book, with tips for enjoying your TOOBEEZ ($4.99 value)

Free shipping ($24.00 value) 
WIN!: A 57 piece giant tinker toy TOOBEEZ ® kit AND a 15 piece set ($124.98 total value) to share, donate or keep. Click HERE to Enter and be sure to tell them Ohana Mama sent ya!
Read this and other real reviews from real families at