Yesterday our car broke down while we were on a drive to the other side of the island. Our car just simply did not like the hike up Haleakala to Kula. So we were stuck in town an hour away from our house, with two kids, two car seats, not a rental car to be had (yay, the tourist are here!) and left with one option…taking the public bus.
We were to be gone just for a drive so I had packed light. So after I crammed all our our stuff into my tiny bag, after my husband had to go find some milk and food for the kids for the bus ride home, and after I realized that I hadn't brought shoes for my littlest one (yeah, pass me over the bad mom award), I soon put together this post in my head and thought, if I had only had an emergency bag in the car…
So for one (of many) of my new years resolutions, I am going to start stowing away a "be prepared bag" in our car at all times. And here's what I am going to pack..
-I'd put it all in my Envirosax bag – it's big enough to handle all of the below with still room to put anything that's in your car that you want to take with you, should you need to leave it at the station to be fixed.
-I'd put my second Patemm changing pad inside it and fill it with diapers, wipes, cream, toilet seat covers (yes I have these), and an extra change of clothes for each child, and don't forget a spare pair of shoes for the keiki.
-I'd add a bottle of Momspit and a bottle of antibacterial lotion
-2 BPA free plastic take and toss sippies
-I am also thinking about keeping 2 Organic milk boxes from Horizon but I'm not sure how they'd stay in my car in the Hawaii sun – those could be taken out and replenished often enough though.
-I'd keep a bottle of water. BUT, I don't want the bottle to be plastic. No leaching chemicals for me, thank you! So instead I'd have a glass bottle from Love Bottle filled with water for our emergency bag.
-Throw in a few granola bars, a bucket of freeze dried fruit from Just Tomatoes and I think we'd be set.

Patemm Pad GIVEAWAY!
To help you get started with your own "Be Prepared" bag, Ohana Mama is happy to have Patemm Pad sponsoring a giveaway! This is my number ONE baby/child related item and I could not live without it! I am on my second one and give it to all my friends when they have babies. Read my review here. It's a round changing pad that also has pockets to hold all of your baby essentials, even a spare pair of clothes. Throw it in your diaper bag or take it solo, it will be a life saver, I promise!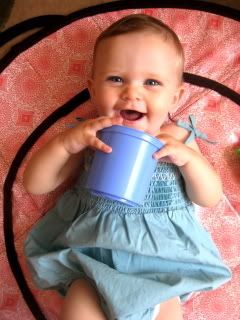 This giveaway is for Patemm Pad's Emma pad (you can see mine in action above with my little girl on it). This is a fabulous print, named after the inventor's daughter. You can use it alone as your purse, but it's not too girly for your hubby to take along when he's flying solo with the keiki. (please note, no exchange for another print is available with this giveaway)
To enter: Head to Patemm Pad, take a look around and then come back and tell us what your favorite feature of the awesome Patemm Pad is. **Leave a way for us to get a hold of you, email is best, but blog will work – make sure your blog is public*
Extra Entries: (Leave a new comment for each that you do)
Blog about this giveaway with a link to

Patemm

Pad and

Ohana

Mama (you get

two

entries for this, so leave two comments with the link to your post if you blog about it)
Share on a social media site (stumble,

digg

, twitter etc) use the share this button below – it's super easy! Leave a comment for each that you do.
Follow

Ohana

Mama
Sign up for our feed via email
Deadline: January 4th at 11:59 p.m. Hawaii time.
US residents only
Winner will have 3 days to claim prize, then a new winner will be chosen
Congratulations to the winner…via random.org
Random Integer Generator
Here are your random numbers:
27

Timestamp: 2009-01-06 06:45:09 UTC