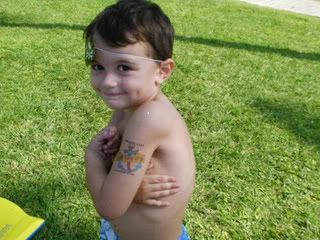 So an update on my son's 4th birthday party. I had posted about it a few times and if you follow me on twitter, you knew I was a bit nervous. Well, it was a pirate theme and it was a hit!
We had the perfect group of 8 kids, a treasure chest pinata filled with yummy candy, eye patches and goodie bags filled with a telescope to seek out treasure, pirate rubber duckies, and tattoos. The kids loved it all. But I do have to say that my son, the birthday boy had THE coolest tattoo of them all…
It was a Kid Safe Ink Tattoo. Kid Safe Inks temporary tattoos are where safety meets cool & fun. They are a must-do for any outing where you could possibly get separated from you child. I, "The Mom", loved it because on this tattoo is has my phone number should my son get lost. Cam, "The Son", loved it because it was a cool anchor – perfect for his pirate themed party. And even the other parents loved it. One mom spotted it on Cam and immediately asked where I got it. Who wouldn't be sold?
How it works – When you order your set of Kid Safe Ink temporary safety tattoos, you give them your phone number – I put my cell phone since we'd be away from the house. The tattoos come back with the cool design you've chosen and "I'm Lost Call…" written at the top and your phone number written on a banner on the tattoo.
Now, I always do my best to keep an eye on my son but I will tell you with 8 little friends running around the park, my little girl running around and me trying to be a hostess, I couldn't keep my eye on him 100% of the time – no matter how hard we tried. We also set boundaries for the kids to run around but again, you know how kids are. So this tattoo, that my son felt was so ultra cool, was a just a little more peace of mind for me.

We never want our children to get lost or go missing but you have to be prepared. It can happen in the blink of an eye. I've had a talk with my son telling him that if he ever got lost to go to another mom with kids and let them know. Or if at a store go to the checkout people and tell them. And if he is wearing his Kid Safe Ink tattoo with my number, they'd be able to call me and I could "claim" him.
Just an extra piece of mind, security and cool way to keep kids safe, that's what Kid Safe Ink means to me! I give it Two rockin' hula shakes!
Giveaway!
Ohana Mama is hosting a giveaway for 1 set of Kid Safe Ink tattoos (24 tattoos total) in the design of your choice.
How to enter…
Head over to Kid Safe Ink, look around then come back and leave a comment telling us your favorite design.
Extra Entries:
Blog about it with a link to this post and to Kid Safe Ink – leave

two

comments with your link
Share this post on any social media outlet – use the share button below – it's super easy! Leave a new comment for each time you share
Subscribe to Ohana Mama or tell me if you are already subscribed – mahalo! –

One

extra entry for this
Follow Ohana Mama –

one

extra entry
And as always, be sure to leave a way for me to get a hold of you should you win – email, public blog, twittername, etc.
Canada and US Residents only
Deadline: January 24 at 11:59 p.m. Hawaii Time
Mahalo
to Kid Safe Ink for this giveaway and a smart cool way of
keeping
our
keiki
safe!
Random Integer Generator
Here are your random numbers:
30

Timestamp: 2009-01-27 18:35:11 UTC