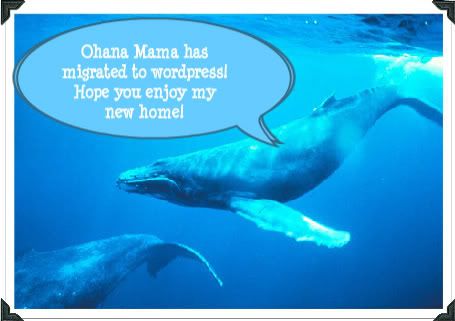 Aloha! Well, I did it! I took the plunge and switched to wordpress and changed up my URL too!
Ohana Mama can now be found on http://www.TheOhanaMama.com!
Be sure to change any bookmarks!  My old site will be redirected to this one but in the meantime, it might be down for a bit.  Don't be scared, I am still around!  As the dust settles, I will be continuing to update the new site with links to all of those on my blogroll, so stay tuned!
For giveaway lovers, they will always be found under the 'Giveaways' tab at the top -easy peasy!
Any suggestions, please send them my way through the 'Contact' button up there as well!
The Ohana Mama Button: If you carry The Ohana Mama button on your site, first, MAHALO (thank you!) second, be sure to grab the new code which goes to my new url——–> it's in the sidebar.
But Welcome! Or 'E Komo Mai' as they say in Hawaii! Take your shoes off, come on in and I hope you enjoy the new site!!
Mahalo! Sarah, The Ohana Mama