Well, your bundle of joy has arrived! Now it's time to share the news with friends and family. And while a phone call to the immediate family is in order, a great way to share the news is with one email sent to all your loved ones. And what better way to send a quick email than by using your very own Peek. This ultra slim, ultra lightweight device is meant to do one thing and one thing only (well, actually two, but I'll save that for later)…email.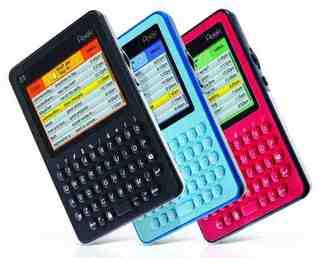 I love The Peek! I am what you might call email addicted, so this is right up my ally. I love how I can still have my phone free to answer calls while I check email on my Peek. I actually don't use text on my simple phone – going through the numbers to get to  the letters, well, it takes me forever! With The Peek I have a keyboard that is much like my computer's keyboard so writing email is easy! And it's extremely easy to set up by just entering your email address and password. One simple function, easy to use and feeds my email addiction, yup, I love The Peek!
A little bit more about The Peek:
It supports up to three email addresses – think of that all your email is one spot! Heaven!
It's a monthly fee to use it but with no contracts so no commitments
Comes in three tasteful colors
And best of all you can also Tweet on Twitter using your Peek!
Just a quick set up and you can be tweeting, emailing and you can be connected to friends, family and work in a snap!
This giveaway is now closed.
Congratulations to the winner…