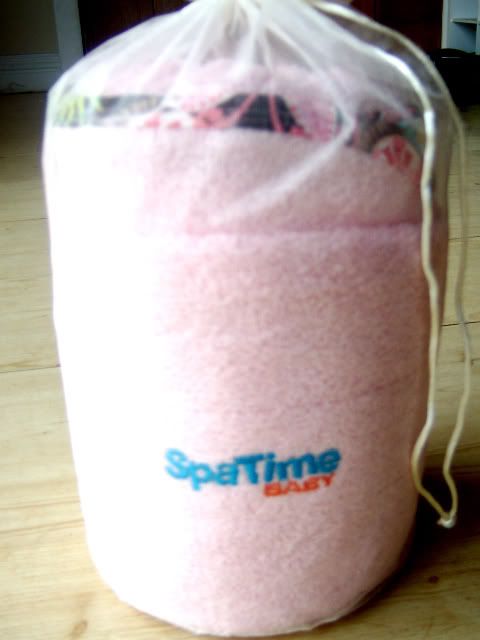 You've had the baby shower, you've shared the news of your new arrival and now it's time for baby's first bath.  Oh but what a cold, trembly, and well, scary little task this can be (for both the baby and new parents!).  Most baths with the little ones involve mom and dad getting equally as wet by either splashes or when taking your babe out of the bath.  Well, not any more! With Spa Tim Baby's 'CozyCare Cape', mom or dad are covered and baby is sure to stay nice and warm after the bath, all cozied up to mom or dad.
More about Spa Time baby…
"Bathe your precious little one in comfort & style.  CozyCare Cape is a safe and pampering alternative to bathing and drying baby.  Stay dry with our exclusive waterproof panel!  Each CozyCare Cape comes beautifully wrapped in a sheer organza pouch.  Makes a fantastic gift!  All CozyCare Capes are available for monogramming."
What I love about my CozyCare Cape from Spa Time Baby…
It has you covered!  Literally!  CozyCare Cape slips over your head and then over your shoulders so you are safe from bath time splashes.  And it's built in wateproof panel on the side that lays against mom or dad, keeps you dry when taking your little one out of the water.

It's big.  Most baby towels are small for small little humans but some fall way too short.  CozyCare Cape is larger than most baby towels and allowed me to make my 18th month old bathing beauty into a bathing burrito after her get-clean routine

It's soft and stylish – with a beautiful trim in a hip pattern and made of soft cotton, the CozyCare Cape is perfect for a babies delicate skin.

And the winner is….