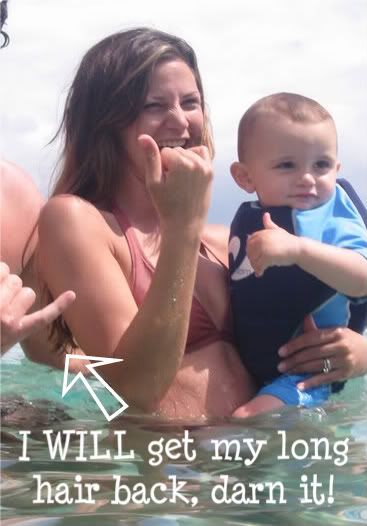 I am 18 months postpartum and I think the shedding of my hair is finally stopping or at least it's slowing down. I swear, after having my children, my chocolate lab (they shed a TON!) and I were in competition for who could lose the most hair…and sadly, I won!  My poor kids and husband were finding my hair everywhere – yeah I once found MY hair in my daughter's diaper..the poor bean! I even chopped about 10 inches off of my hair thinking that would help stop the problem…it didn't.
Yes, hair loss is yet another a side effect to having kids, you grow a ton of gorgeous hair during pregnancy and then you seem to lose it all after you birth your little one.  I only wish the baby weight came off as quickly, right? Here are some tips on natural ways to regrow hair.
When I found out about this product I was intrigued…it was perfect for postpartum moms.  Dr. Miracle's Temple & Nape Gro Balm and Anti-Breakage Strengthening Cream sounded, well, like the miracle all new moms need!
A little about Dr. Miracle and their products…
"This hard-hitting duo treats hair loss at the scalp, targeting new growth to promote strong healthy strands. The signature Dr. Miracle's "Feel it" formula even let's you know its working; leaving you to tend to the coo's of your newborn.

Dr. Miracle's Temple & Nape Gro Balm targets the temple and nape areas where hair is easily broken off or damaged. Infused with vitamins, the balm soothes and invigorates the growth of the hair by ending breakage and split ends by penetrating the scalp. ($7.99)

Dr. Miracle's Anti-Breakage Strengthening Cream stimulates the follicle, promoting strong, shiny, healthy growing hair. This featherlight cream moisturizes and conditions, healing damage accrued by stress, traction, heat or chemical styling ($7.99)"



I have been using this for the past couple of months and I do think it's helping.  I can feel it tingling while on my scalp and my hair seems to be softer, less brittle and fuller.  I'm loving it!  I have dreams of getting my long gorgeous hair back (see pic…and that was a beach head day (that's my first born throwing his first shaka))…it will happen, and I think Dr. Miracle will be helping me get there!
I used small amounts on my wet hair after the shower.  I was afraid it would leave my hair greasy but it didn't.  Instead my hair seems to soak it up  – see I really needed this! And I was then able to style my hair as usual (sadly that means, put it back in a pony tail, most days) .
New moms need all the help we can get to help makes us feel and look beautiful.  Hair loss is natural after having a baby but it's great to find something made for us to help combat it!