I have a new favorite diaper bag.  It's from the ultra cute, ultra modern store, baby star. And I LOVE it!  In all honesty, I have been sitting on this review for a bit now.  But I have been putting this beloved diaper bag to the test of life.  Yes, it's traveled with me to Honolulu (it's PERFECT to hold all essentials for plane travel), taken me to the beaches all around Maui and of course it's made it to the store and other more mundane outings.  It is my go to bag for everything. And I love it…oh wait, I already said that, huh?
What do I love about my baby star diaper bag….
It's big enough.  Not too big but just the perfect size to really do it's job and earn it's title as a "diaper bag"
BUT, it's stylish. And something I use when a diaper isn't in my bag.
It has a place for everything and then some…see points below
Inside is a compartment that zips – I love this for when I'm just throwing my phone, vado camera and some money or ATM card into my bag, sans purse.  This compartment saved me just the other day when all the contents were inadvertently dumped out at the beach.  All my important things were safe behind the zipper, thank goodness (and thanks baby star!)
On the other side of the bag are two more compartments.  One fits a water bottle for me or a sippy for the kids, perfectly.  The other is about the size of the wipes case that comes with the bag (it's BPA free, by the way)
The print…ooooh, I luv the print!  I have the pink daisy chain print and it's girly, and looks great with my rather monotone wardrobe.  Throw it over my shoulder and this bag is my accessory!
Baby star's diaper bags also come with a fold-able changing pad.  It fits in the side compartment too.  When I want to go light and don't bring my bigger changing pad, I use this. It does the job and it's the same pretty, girly print as my bag.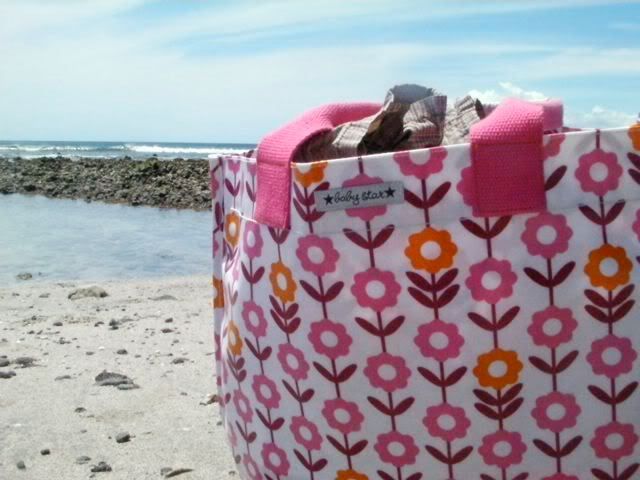 All of this wonderful-ness snaps shut via a magnet.  The bag does not fully close, but that can be really useful, say when trying to easily grab plane tickets as you board (again, a lifesaver – no zippers to fumble with)
Yes, I really really love this bag.  It's my fave item right now.  And guess what…
baby star is having a SALE! Sadly, the diaper bag is currently not on sale, but the price is worth it.
However, they have a ton of other goodies that are uber adorable.  Check out this "mom-on-the-go" package – usually $92, now only $19.99 (omg!).  It's absolutely PERFECT for plane travel with your little one.
Thank you baby star for making a rockin' diaper bag.  I definitely recommend it to anyone looking for a smart, stylish, easy diaper bag! http://www.babystar.com