Warning!  Mom…Do not read any further…..You don't want to spoil your surprise!
(no really, mom, STOP reading!)
did you stop…
seriously mom…
stop….
ok, I think we can proceed…
And if you are still reading…Happy early Mother's Day Mom…this is your gift!
You are going to love it!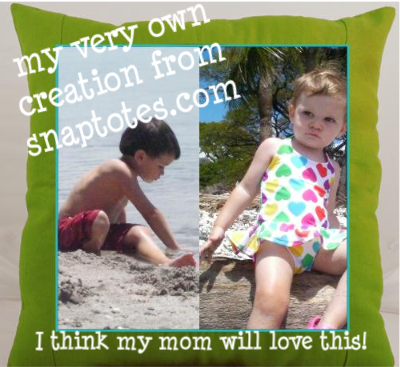 I was so excited to be able to try snaptotes.com for my mother's day gift to my mom.  Snaptotes.com is all about creating gifts with pictures and that is perfect for my mom, who lives about 5,000 miles away from us.  This way she will always have a picture of her little grandkids right there on her special gift..
Snaptotes.com has awesome bags that you can put a picture on.  They have wallets, laptops, beach bags, travel bags even leather bags and pillows, all available for you to create a photo collage on and make it your own masterpiece.

A little more about snaptotes.com…
"SnapTotes is not just about memories; it's not just about what's in your heart… It's about carrying and sharing memories of those people and places that are important to you, your loved ones and friends.

Memories are unique for each and every person. This is one reason we make it so very easy to create a special bag that fits and expresses your memories perfectly every time.

Our site is designed to walk you through the simple steps of designing your own personalized image handbags, purses and totes. You choose your favorite image, select your favorite style of handbag, and pick your interior colors. From there, we take your ideas and craft a customized handbag that is delivered to your door in three weeks or less"
Snaptotes.com made making this gift for my mom a breeze!  I even made a quick screen cast in live time to show you just how easy it was!  This was my first go at it…
Click here to see in live time just how easy it was for me!
Discount!
I'll have my mom share her pillow when she gets it.  But don't wait for that!  Head on over and get your own photo gift for your mom (or yourself!) and get 10% off using the code OHAN10.  If you are trying to make it for Mother's Day be sure to get your order in by April 30th.