The following is a real story from a real nursing mom, Allie of Seattle. Allie is also the Mama behind No Time For Flash Cards (a sanity saving blog to thousands of moms! Thank YOU Allie!)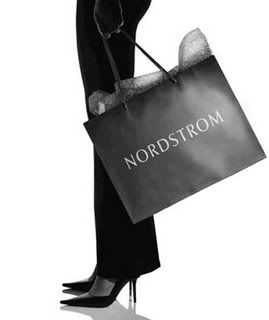 I love Nordstrom for 3 main things.
1. My husband looks dashing in their wrinkle free dress shirts, and I don't iron a thing.
2. Their blanket sleepers are available year round.
3. Their staff are very supportive of nursing a toddler.
A few months ago I was in the downtown Nordstrom in Seattle with my son.  We were spending the day in the city away from my husband who was using power tools at our house trying to make it more beautiful.  Power tools and toddlers are never a good mix, so I took my son out all afternoon despite the fact we'd had a horrible night,  we were both incredibly cranky and needing much comfort.
After a terrible time at the Aquarium, and a craptastic mall lunch, I retreated to somewhere I love, Nordstrom. It wasn't too long though until my son had had enough. He needed to nurse . Despite my usual stance on nursing wherever and whenever , I knew we needed to be somewhere other than a busy store on a Saturday.  So I went into the women's lounge. They have a  nursing room but there is a change table in there and I try not to nurse my son in a place reserved for the removal of poop.  So I pushed my stroller through the line of women waiting to go pee and into the lounge area with comfy couches and far from a garbage can full of dirty diapers. He nursed hungrily  even though he just ate and I melted into the calming effect of the hormones. Ignoring the double takes of some women coming in and out of the busy room , I stared at my son. When I looked up a few minutes later a woman in a uniform , rubber gloves and a duster hanging from her belt was smiling happily at my son.
"How old is he? He looks old"  she said loudly in an heavy north African accent.
" Almost 2″  I replied plainly . I was getting my guard up, trying to remember all the benefits of nursing a toddler I read on kellymom.com
"Good for you, you don't see that much in America. Lucky child! In my country we nurse until 3 or 4 , here babies miss out! You keep going!"
I was speechless at first, I was so so worried that she was going to question me that I didn't even think of the possibility that she'd praise me. She wasn't just accepting my choice, she was praising it.
We continued talking although our conversation moved from nursing to our very different experiences immigrating to the United States. My son had fallen fast asleep, and our horrible night had been long forgotten in my happiness of this unexpected support.
I  remember her often as I tell a new friend how my son doesn't eat a big breakfast since he is nursing, or explain that yes I nursed him and still do when the topic comes up as it does often with moms.  I confidently remind myself he is a lucky child and I  don't need to hide that we still nurse.
There is always going to be people who parent differently than me, and think my choices are wrong, or plain odd. I can't change everyone's opinions but I can try to pass the support I got so unexpectedly on.  I try to mention nursing my son often on my blog, hoping that some little comment about him still nursing will be enough for a mom to get that extra boost. If you are breastfeeding a toddler, look down at them nursing today and repeat after me "Lucky child " .
Thank you Nordstrom for great shirts, sleepers and support when I didn't even know how badly I needed it.
Do you have a nursing in public story to share?!  Leave a comment!