This is a breastfeeding prize pack full of really cool stuff that all breastfeeding moms will love!
Ready, set…go!
ONE lucky Ohana Mama reader will win ALL of the following!
A nursing night gown from Lady Lait

Revolutionizing the nursing gown, Eve is our premiere and original design. A comfortable tunic for the most fashionable nursing mother, Eve can be worn anytime you are at home with your baby and is the ideal solution to nighttime feedings. Take Eve to the hospital to begin your nursing experience in style. Designed to conceal a full coverage nursing bra, now you can finally get the support you need! Each front panel stretches to the side for the most simple and complete breast access available. No unsightly nursing openings, just great design. The perfect lounge and sleepwear piece, you will love having one of each color! A big part of the giveaway is the The Bust Boosters formula, the ingredients of this product are amazing and you will definitely love it.
Also included is a pack of Milkscreen for when Mama needs a night out!
"What is Milkscreen?
After nine long months of pregnancy many women are interested in having an occasional or celebratory drink but worry about passing any alcohol onto baby if they are nursing.  To give women peace of mind, one Mom invented Milkscreen — a simple 2 minute at home test that detects alcohol in breast milk. Mom simply expresses some breast milk onto the test strip and the color will begin to change if there is alcohol present.  Studies show that infants consuming breast milk with an alcohol concentration at 0.03% or higher will eat and sleep less. The Milkscreen test is set to show a color change at 0.02% to let Mom know if her milk contains a level of alcohol that might negatively impact baby.  With Milkscreen, Mom can reclaim some of her social life but also continue breastfeeding with confidence.  No more guessing or unnecessary 'pumping and dumping' of precious breast milk."

A $25 gift certificate to PassionSpice to put towards a fashionable and dare I say, sexy, nursing bra!
About Passion Spice…
"Just because you are a mom doesn't mean you stop being a woman" Oh how true!  passion Spice offers nursing bras ad maternity lingerie for moms that are pretty, sexy and will help you still feel like a woman while nursing or pregnant!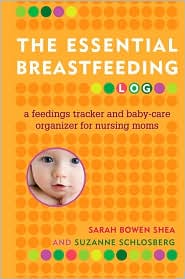 The Essential Breastfeeding Log
THE ESSENTIAL BREASTFEEDING LOG is perfect for:

• A first-time mom. Keeping tabs on eating and sleeping can foster confidence for nervous novices.

•A mom with older kids. They can see how the new baby's habits differ from the other kids, helping treat each child as an individual.

•A working mom who pumps. Keeping the log on the desk will remind a mom to pump on schedule in order to keep the milk flowing.

•A mom with childcare. It's a great way to keep tabs on what happens when others are in charge and to succinctly communicate important information to babysitters.

•A mom of multiples. This log is a lifesaver for women who have to keep track of feeding and sleeping schedules for two or more babies.

In addition to breastfeeding, Suzanne and Sarah share helpful tips on getting your body back, the benefits of breastfeeding, and recommendations for the proper gear, and much more in-depth advice and guidance.
How to Enter:
Head on over to Lady Lait, come back and tell us which color you'd want if you won! Also leave a comment telling us what bra or lingerie at Passion Spice caught your eye.  Leave both of these in ONE comment.
Extra Entries:
Tweet this giveaway – unlimited entries, repeat tweeting is encouraged (thank you!)
Blog about it – give yourself 5 extra entries
Stumble The Ohana Mama (you can use the button below this post!)
Subscribe to The Ohana Mama
Deadline: 5/3 at 11:59 p.m. Hawaii Time
US residents only
WINNER!