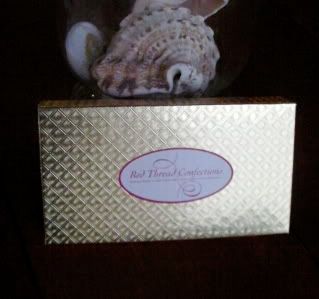 I think it's safe to say that chocolate is a grand slam when it comes to Mother's Day gifts.  Even if that mom is on a diet (yes she may hate you…for a second) she deserves a treat at the end of a hard day.  Of course with these chocolates by Red Thread Confections, she (or you!) may not be able to eat just one.  Or keep your husband away from them. Feh.
That is what happened in my house.  I was so excited to try these chocolates from Chocolatier and single adoptive mom, Annika Pfluger.  I had heard so much about them and drooled all over my keyboard when perusing her site.  I was like a kid, in well…a chocolate store, when they arrived for review!  Nestled in a gold box that glimmered – screaming to me, "open and eat us!" I obliged.  BUT, I wanted to take my time, enjoy each one on it's own, and really indulge myself, one chocolate at at time.
Then came in the hubby. Do you have one like this?  He spotted the golden box, smelled the sweet chocolate and pounced!  I saw him grab at the Creamy Caramel Turtle and I immediately said, "NO WAY BUDDY!" that turtle is mine! He listened but I saw him sneak out another one (or two).
I am so glad I caught him – the Creamy Caramel Turtle was not what I expected – it was MORE! It had a salty crunch to it. The perfect combo of soft caramel, smooth chocolate with a tab bit of crunch.  I think it was my favorite. But it's very hard to tell as all of these gourmet chocolates are as they say "to die for!"
The hubs didn't stop there he actually ate the last one…HOW DARE HE! And yeah, we had a small spat over it. But who could blame him really, these babies are gooooooood!
A bit more about Red Thread Confections…
"As an adoptive parent, the red thread legend is very close to my heart. Many of us believe that our children were connected to us by the red thread at birth. By the same token, our children will be forever connected to their birth countries, birth families, and to all the people who took care of them in their early lives, by that same red thread.
The mission of Red Thread Confections is to honor the red thread by donating a portion of the proceeds of each sale to orphanages and organizations which help children both in the US and abroad.
Inspired by the legend of the red thread, our creamy and delicious hand-crafted gourmet artisan chocolates are culinary artistic masterpieces that are beautiful to behold. Being an artist herself, professional chocolatier, Annika Pfluger, is passionate about developing unique and delicious recipes. All of her chocolates are hand painted individual works of art"
And their ingredients…
"We use only the finest, high quality ingredients. Below are a few of the choices we've made.
The best premium couverture chocolate we can find.
Organic all natural colored cocoa butter
Fair trade Ethiopian coffee
Well Earth Sustainable Business Initiatives – Fair Trade Organic Indian Vanilla
Maple syrup from Stuart & John's Sugar House
Pecans from Our Daily Nuts in Delmar, NY
All natural dried fruits (no sulfites)
Organic spices and citrus peel
Some do contain nuts, so those with allergies, take note.
BUY NOW IN TIME FOR MOTHER'S DAY!
Order must be made by 5/5  for more remote areas and by 5/6 for all others (US only) You or the recipient won't be disappointed and look at all the good you will be doing – since part of the proceeds go to orphanages and organizations which help children both in the US and abroad. What a PERFECT Mother's Day gift to you, your mom and to these kids!

GIVEAWAY!
One lucky Ohana Mama reader will win an 8 piece assortment box of their very own to enjoy!
How to enter: Head on over to Red Thread Confections and join Annika's newsletter (in the sidebar) – don't worry she doesn't spam – but you will get new deals on this delicious chocolate! Leave a comment letting me know you did this.  Be sure to leave a real email address – any bogus ones will be thrown out.
Extra Entries:
Leave a comment about why you need chocolate! (tough week? a ginormous sweet tooth like me? share!)
Tweet about it – leave a new comment for each tweet
Blog about it with a link to The Ohana Mama & Red Thread Confections
Deadline: Mother's Day May 10th
US residents only