Ahhh, this feels good!  When I started The Ohana Mama I would run interviews with mom entrepreneurs.  I loved learning more about the Mama behind a business and learning how she got started and any tips she had for other entrepreneurial moms. With that said, I am so excited to feature Stephanie Laissle from Me and Mommy Boutique!
I met Stephanie through another entrepreneur and blogger, Christy of The Write Gal (thank you Christy!)…this is the power of a blog…meeting and connecting with awesome women!!
So let's chat and get to know, Stephanie the busy mama behind Me and Mommy Boutique!
Aloha Stephanie! So where can we find you? What's the name of your store and the url?
Me and Mommy Boutique ~ www.MeAndMommyBoutique.com
Are you on Twitter?  If so, what's your twitter name?
Yes, Me and Mommy ~ http://twitter.com/meandmommy
Tell us a little bit about your company and why you started it:
Me and Mommy Boutique is, at this time, exclusively an online maternity and baby boutique.  In the near future I plan to expand to an actual store location in San Antonio, Texas.  We specialize in designer clothing as well as blankets, flowered hair clips, hats and headbands, slings, car seat covers, front carrier slip covers, and so much more.
I began my business because not only has it always been my desire to be an entrepreneur, but I am always planning for the future.  I want to have more freedom in the future to be able to attend my families events and stay as evolved in their lives as possible.  Even though my two daughters are only 3 years old and 1 years old, I know that they will be off to college and starting their own lives before I know it.
Because I love being a mom so much, I hate the thought of not having my kids "need" me anymore when they are older, no matter how far away that time is.  My boutique will allow me to still be involved with other moms of young children and see the hope and possibilities in their young eyes.
I love helping mommies-to-be, experienced moms and even grandmas find that perfect item for themselves, their baby or a gift for someone else.  I hope to be able to assist these wonderful creatures called "mommy" for the rest of my life.
Do you have a favorite item in your store?
Yes, My diaper bags by JP Lizzy.  I own two of them and I just can't quit buying them. They are so functional.  I also carry my diaper bag as my purse because I don't like to have to carry both a purse and diaper bag.  JP Lizzy bags work perfectly for moms who prefer to carry just one bag.  They are not to big but big enough to hold both your stuff and your kiddo's stuff.
Do you make the items in your store?
I do make fabric covered photo albums; however, I do not have them featured on my website just yet.  That is something that I want to add in the near future.  If anyone is interested in having one made they can email me at stephanie@meandmommyboutique and I would be more than happy to email them pictures of the ones I have made in the past and we can discuss what kind they would be interested in.  They sale for $35 each.
What is your favorite part of owning your own business?
The thought of what is to come. I am a dreamer and I just love the thought of what my business can become and how my life and my family's life can be impacted by owning a family owned business.  I have big plans to expand from being exclusively an online boutique to opening an actual store in the near future.  I have dreams of beginning my family's legacy with Me and Mommy Boutique and if one or both of my two daughters want to become a part of my business when they are older, then I would be so ecstatic!  But if they chose to follow a different path, then I will of course support them in any dream that they have and want to pursue.  I feel you have to support someone's dreams in order for them to be successful in their lives because when you support people in positive ways, their mistakes in life become "lessons" and not "failures."


How do you handle juggling being both a mommy & a business owner? Any tips for other momprenuers?
It is very difficult to jungle both family and business but it is not impossible.  It is very rewarding in both areas of my life to have my own business and to be a mom.  Being a new business owner, I am still learning the ins-and-outs of juggling both being a mommy and a business owner.  But I have met so many wonderful people throughout this adventure that have helped me learn very quickly that you have to give quality time to your children and your husband.
When you own your own business you have to keep yourself in line or things will not get done.  I am a perfectionist and at times that can be bad because if I have a personal deadline I am trying to meet for Me and Mommy Boutique, then I could probably work for 2 days straight without sleeping just to make sure that I get things completed.  However, I know that that is not good for me as a mom who needs to be happy and energetic for my kids, nor is it good for me as a wife because I feel that a happy marriage is about being part of a partnership that needs to communicate and both people in that partnership need to be awake and coherent to be able to talk, etc. at the end of the day. So if I can think of any advice that I could give as a momprenuer, it would be to stay organized and positive.  Be realistic about your goals because nothing happens overnight; it takes a lot of hard work, research and determination.
And last, if you are planning on starting on online business or expanding your business online, it is not only super important to learn everything you can about SEO and getting your website on the first page of searches, it is also probably equally as important to find good, trustworthy people on the internet who can help you network with others in your field.  Network, Network, Network.
What's one thing you never leave the house without?
I have three things actually that I can't leave behind, my cell phone, my business cards and my dayplanner.  I would be lost without them all ~ My dayplanner because not only do I keep my schedule in it, but also my kiddo's and my husband's schedule; if not the whole family would be lost on a daily basis.  Having my cell phone with me at all times, helps with having an online retail boutique.  If I have orders come through, it is very time effective to be able to receive it on my phone and track orders via the web from my phone.  And lastly, I do not suggest that any business owner EVER leave their house without their business cards!  You never know who will run into.
Do you have a favorite quote that keeps you motivated?
Yes ~ (sorry, I actually have three that I can never pick from, I live by all of them)
1) Go confidently in the direction of your dreams! Live the life you've imagined.  ~Henry David Thoreau
2) It's never too late to be who you might have been. ~George Eliot
3) I can do all things through Christ who strengthens me. ~ Philippeans 4:13
Giving Back
Me and Mommy Boutique gives  5% of their annual profits to the Susan G. Komen Breast Cancer Foundation as well as The March of Dimes, March for Babies.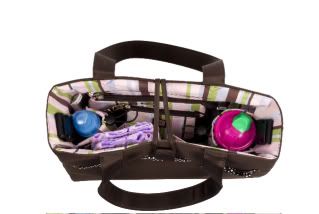 GIVEAWAY!
Stephanie has genrously offered one lucky Ohana Mama reader to win a JP Lizzy diaper bag (see picture above)
About the JP Lizzy Mocha Mint Classic Tote ~ Retails for $98
Microfiber wipeable fabric
Wipeable liner
Magnetic closure
Stroller straps
Coordinating changing pad, cosmetic bag & wristlet
Large zippered interior pocket
2 open interior pockets
2 adjustable interior bottle pockets
2 exterior side pockets
Metal feet
Dimensions: 12″h x 14″w x 6″d
Color: Brown
How to enter: Head on over to Me and Mommy Boutique, take a look around and then leave a comment letting me know what else has caught your eye at Stephanie's store.
Extra Entries:
Tweet about shi giveaway (Unlimited entries – leave a new comment for each tweet)
Blog about it (5 entries – leave 5 comments with a link to your blog post)
Subscribe to The Ohana Mama
Grab my button
US residents only
Closes: May 19th at 11:59 p.m. Hawaii Time
WINNER!