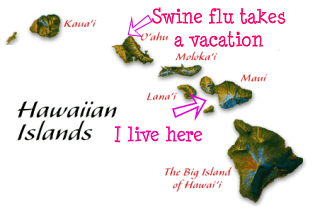 It's official, three cases of swine flu have been reported in Hawaii.  They are all on Oahu but Oahu is the main point on entry for all islands in the chain of Hawaii.  The ladies on momversation happened to be talking about Swine Flu and so of course I had to put my take on it!

We're on a small secluded island so one sick person can get a whole lot of other people sick really fast.
Are you concerned about the swine flu?  Do you have any cases by you? What's YOUR take? Leave a comment!!