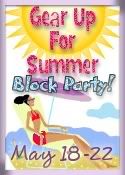 Aloha and welcome to day 2 of our Gear Up For Summer Block Party!  Today's hostesses are Bridgette from The Not So Blog's Experimental Mommy & Karen from 3 Garnets & 2 Sapphires!
Remember, you get extra entries on ALL giveaways for entering the other giveaways in the block party!  So head on over and enter, then come back and be sure to leave a comment in my block party post to win a Skitter!
Today's Block Party Goodies…

From The Not So Blog's Experimental Mommy…
"If you have plans to head to the beach this Summer, you have GOT to see this bag! The WannaBe from Ju-Ju-Be can be purchased from Let's Go Strolling and is probably the most perfect beach bag I have ever seen!

So, the WannaBe and BeMine bags are great for summer outdoor activities, but what happens when it rains? Be sure to have some fun activities on hand to entertain the kids!

Who doesn't love Play-Doh?? The kids (and Mom, too!) can have hours of fun making a yummy Play-Doh spaghetti with The Spaghetti Factory!"

And from 3 Garnets & 2 Sapphires…
"RoxStar Designs is a boutique that specializes in felt play foods, but is now slowly expanding into cloth diapers and handmade toys. This boutique gladly welcomes custom orders.
Now for the music . . . The "Sweets 'n' Treats" children's music CD by Tracey Singer is scheduled to be available to the public on July 7th, 2009. If you listen to samples on TraceySinger.com, you will find that the songs on this CD have a touch of everything . . . from oldies to folk, from jazz to easy listening. Tracey's CD is perfect for our block party because there are quite a few songs on it about summertime."
Stay tuned, more awesome block party prizes are coming your way every day of the week this week!
Have fun!