I know a bunch of you want to know who won the Skitter and who will be sportin' the awesome diggs from Salty Chix…so let's get to it….



The winner of the SKITTER is……drum roll……1955nurse! Thanks to everyone (over 650 entries!!) that entered to win!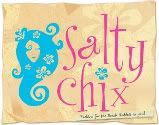 The winner of our awesome Salty Chix Summer stylin' prize is…Stephanie, who I believe, entered almost every other contest in MomDot's 31 bloggers in 31 Days Birthday Bash.  Woohoo!  Go Stephanie…it paid off girly!
They both have 48 hours to send me their mailing addresses.  If I don't hear back, new winners be chosen.