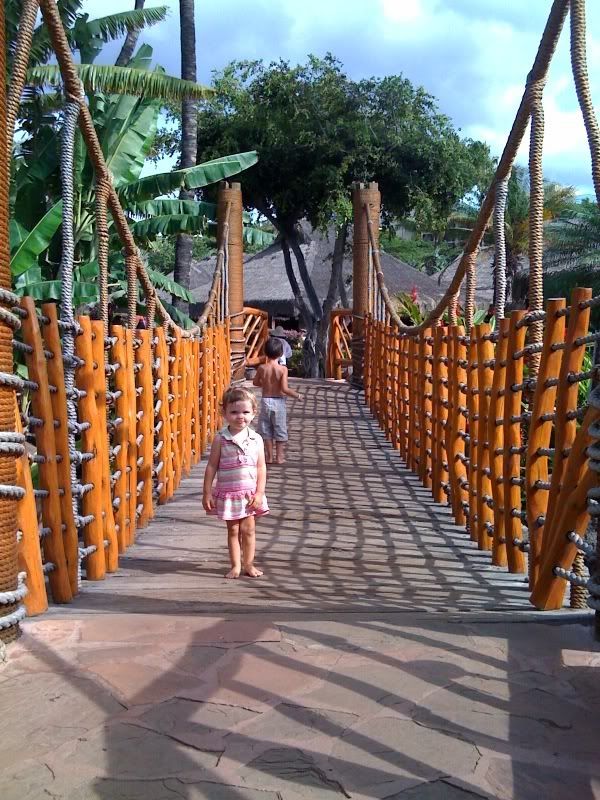 We headed over to the other side to The Grand Wailea Resort.  This place is AMAZING!  I would liken it to Vegas on Maui or Disneyland right here on our Valley Isle.  They have swing ropes where you swing and jump into the pool below, a water elevator and a bunch of water slides.  The keiki pool has a sand entrance and gives the feeling of being in a lagoon and I can't forget the lazy river.  This place is amazing!
They also have vendors that come in with things like sand art, ceramic painting, build a bear (with a Hawaiian flare…stuffed animals like lobsters, seals and other sea creatures are available and you can dress them in Hawaiian gear, it's really cute!) This place is fantastic for the kids (and parents too!)
Here are my two kiddos enjoying the swing bridge – warning, make sure your kids wear shoes if they want to romp on this fun jungle like passageway, my son got a killer (HUGE!) splinter…thankfully we got it out but, bad mommy for letting him run around with no shoes.
Oh and if you go, you must go down the water slide that is closest to the towel area – at the end, just before you plunge into the pool, a motion sensored camera will snap your pic.  So, make sure you smile, put those hands up or do a shaka, because you'll want to buy one to take home and show all your friends what an awesome time you had at The Grand Wailea!
Here I am…It's a pic of a pic but you get the idea…