Happy Monday! It's time to get our hula shake on! Here's how it works…
1. The Ohana Mama (me) picks a site, product, post, whatever, to feature as my hula shake
2. You leave your link to a post, giveaway, sale, review, etc, below
3. We all visit, make new friends, find cool new products and blogs to read
It's as simple as one, two, three…now get your hula shake on!

Here's my pick…keep the hula shake shakin'…
~~~~~~~~~~~~~~~~~~~~~~~~~~~~~~~~~~~~~
It's all everyone is talking about, BLOGHER!
And it's in just two short days!
I'll be flying in on Thursday, actually leaving on Wednesday, yes it's going to take me TEN (10) HOURS! to get there but I feel it's so worth it!
I've been feverishly getting ready, ordering business cards, buying dresses (it's been fun and I may have a new-found addiction to shopping…at least I find deals!) and getting everything in order.
Along the planning way, I found an awesome app for the iPhone, called BUMP Technologies, it's a fast way to share your contact info and virtual card via your iPhone. This video explains it far better than I can…
If you have an iPhone, come and give me a BUMP at Blogher!!
If you don't, I'll have the adorable business cards below, made by Zen Designs Studios.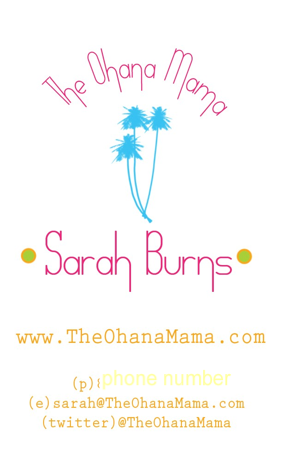 Now it's
your
turn! Share your great posts, latest giveaway(s) or promotion(s) below in Mr Linky. Be sure to visit each other, leave comments, make it a grand
hula shake
across the blogosphere! Share the Aloha!
Have a
shakin'

week everyone!

If you participate in Ohana Mama's Monday Hula Shake around the Blogosphere and care to spread the aloha, grab our Shakin' button!

**The code to make it grab-able isn't lovin' me right now, so you can right click the pic below to grab it and put it on your site. Sorry!**