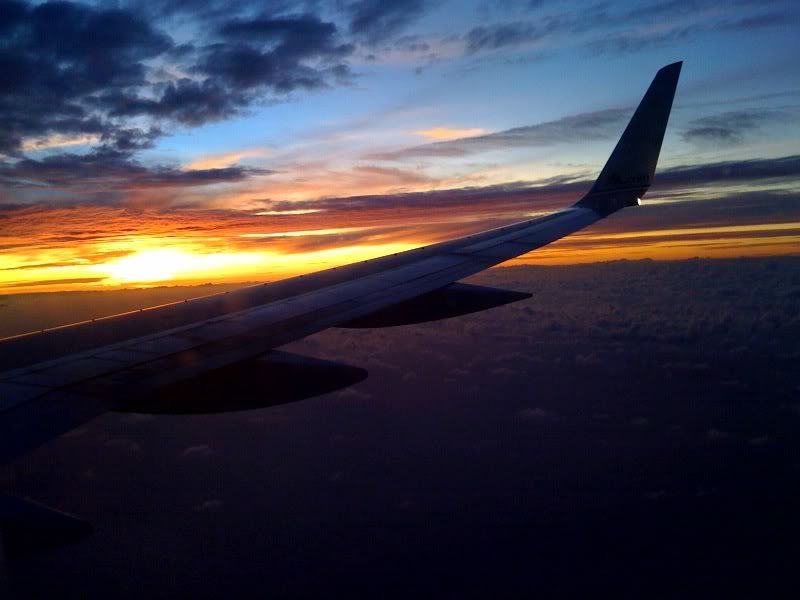 Yesterday ended my journey at Blogher in Chicago.  I headed out on a 10+ hour trip back to beautiful Maui.  It was wonderful to watch the sunset over the airplane wing and then fly over all of the cane fields as we approached the Valley Isle.  The green is so green and the clouds clung to the side of Haleakala Volcano, as if hugging it.  The rush of plumeria scent as I came out of the plane, washed over me as if the breeze was putting a fresh lei around my neck to welcome me home.  It was nice.
As I left the gate, I looked over my shoulder and I saw that I came out of Gate 23…the same gate that I had left through. (and had a spill on) This time, there were no trips or falls or crashes or spills, but my feet weren't firmly on the ground either, no this time, they were dancing in excitement to see my kids, my husband and my Maui.
Flying home I had so many great thoughts about this past weekend at Blogher.  I met wonderful women, listened to fantastic panels and learned a ton.  But what is so interesting is that going across the country to Blogher had actually brought me back home. It made me even more grateful for all that I have.  It helped me become better focused in what I want from my blog – sorta…I left with so many new ideas…but I think they will each help make Ohana Mama better.
Going to Blogher isn't just about the destination. Most trips never are. It was the entire journey that made the biggest impact.  The planning.  Securing sponsorships and working with some top notch women entrepreneurs.  The trials of leaving your family – and realizing my husband CAN do it and it was great for my kids to see mommy doing something for mommy.  They love me no less.  In fact I think they may love me more…I came back…lol ;) joking of course.
Blogher for me was a journey in every sense of the word.  And like most journeys the lessons learned will stick with me forever!
Some cool things I learned from Blogher 09…
1. Online friendships are real…when I met the women I email and read online, it felt like we had known each other for forever! No more IRL friends/online friends…no, everyone is a friend. Online or in person! PERIOD! (which means… respect, even when hiding behind a keyboard…there's real people on the other end)
2. Freaking out about what to wear was a bit of a waste.  No one judges, no one really cares. Just be you.
3. My family can survive without me.  I can be my own person.  And I think we are all better for it.
4. I am in love with Chicago and the city…but I'm a Maui girl…through and through, it's now a part of me.
5. A clique isn't a clique…it's just friends that were so excited to finally spend in person time together.  There's no shame in that!
6. I learned to be authentic and my audience will find me.  This might be the biggest nugget of useful info I learned.  I knew this but to hear it from the great panel talking about audience, which included, Laura Roeder (@lkr), Ree Drummond (Pioneer Woman) and Twanna (Funky Brown Chick), it stuck.  Just be you…do you see a theme here?
7. Free swag will turn people into vultures….including my kids who are now fighting over playdoh…I should have gotten two, but I didn't want to seem greedy. damn.
8. I need a new avatar on Twitter…nearly everyone said I was skinnier, tinier, smaller than what I look like online…not sure how to take this…
9. The keynote on Friday night was my absolute favorite.  To hear the voice behind the writer, was amazing.  The keynote speakers made me want to be a better writer. It was so emotional and inspiring!
10. I learned that sometimes you need to leave all that you know, just for four days, in order to find yourself again and appreciate what you've got.  I am very thankful!.
I got home and the house was clean, the kids were happy and I was refreshed!  I'd say this journey was quite successful!