I really think the term, "work-at-home mom" could be seen as an oxymoron.  I mean, working while taking care of kids is much like driving and texting… or walking a tight rope…or eating an ice cream cone in the hot Lahaina sun..Dangerous!
But, I live to tell about it…
I was sitting at my desk this morning.  My desk is in our family room. Hell, everything is in our family room, it's one big room with our tv and couch at one end, then dining room table, then my desk.  So the kids are in eye sight, most of the time.  In ears reach ALL of the time (which can make teleconference calls a real bitch, let me tell you!) and so I believe I can do work and take care of the kids, albeit with the TV on (aka mommy's helper) but I feel most of the time I can tame the work-at-home-mommy beast.
Most of the time.
So as I said I was sitting at my desk.  I take a mental note that my daughter is quiet.  Perhaps she fell asleep on the couch, afterall she was up ALL night last night and her show, Little Bear, which plays on the TV is, well, not a "active" show, it's actually really mellow (mommy like!).  So I think "ooh, she's sleeping, so cute! yay!" I am tapping away at my keyboard, setting up webinars, emailing folks, when I get a whiff.
A very distinct smell enters my nose.  Cod Liver Oil. I know that smell. Most moms know that smell.  It is the smell of the all mighty Desitin.  And no not the new (wimpy) Desitin formula that's creamy and seems to do nothing for my daughter's derriere.  No this is the old fashion, what-your-mama-told-you-to-buy, Desitin, with COD LIVER OIL and all. Did I mention COD LIVER OIL? Just being sure…
Anyhow, I know that smell. All too well.  It's the $6 tube I ran out to buy at 10 p.m. the other night when my daughter had a howling, yahooo of a rash. Yeah, it was bad.
But wait, that smell wasn't coming from my hands, I hadn't just changed a diaper so it wasn't looming in our room from a past poop wiping and it wasn't coming from the tube that was on my desk next to me, in safe keeping.
Wait.
Where is the tube of Desitin that I purposefully put on my desk, away from the bambino, so that she wouldn't attack it as she does anything that's creamy and resembles paint?
Shit.
I head over to the couch.  I am sorta of creeping but doing it briskly.  I wanted to catch just what is going on. The couch back is to me, and it is the perfect height to hide my mischievous little girl on the other side. I am scared. I am thinking the couch is going to be covered in this yummy fish smell, water repelling WHITE thick Desitin.
I come around the corner of the couch and her head is down.  The couch is not white (oh thank god!). But then she looks up at me. And I see her.
Yes, it seems while I was working, my little girl had gone off and joined the circus and is now known as "Desitin Clown."  In fact that may be her nick name for the rest of her life (fun times ahead in high school, little girl…just wait…)
She has covered her face. Her ears. The hair along her hairline. Her mouth has remnants of this pasty goo on her tongue. Poison Control anyone?
And what do I do? I whisk her off the couch…and then I do what any mother does when her child has made the biggest mess and is torn between yelling in horror and laughing so hard that you pee your pants…
I take a picture.  Well actually I took like 5, just to be sure I caught it on film so that she can always be reminded about "the Desitin incident" and so that I can email it to every person in my address book, oh and blog about it. But of course!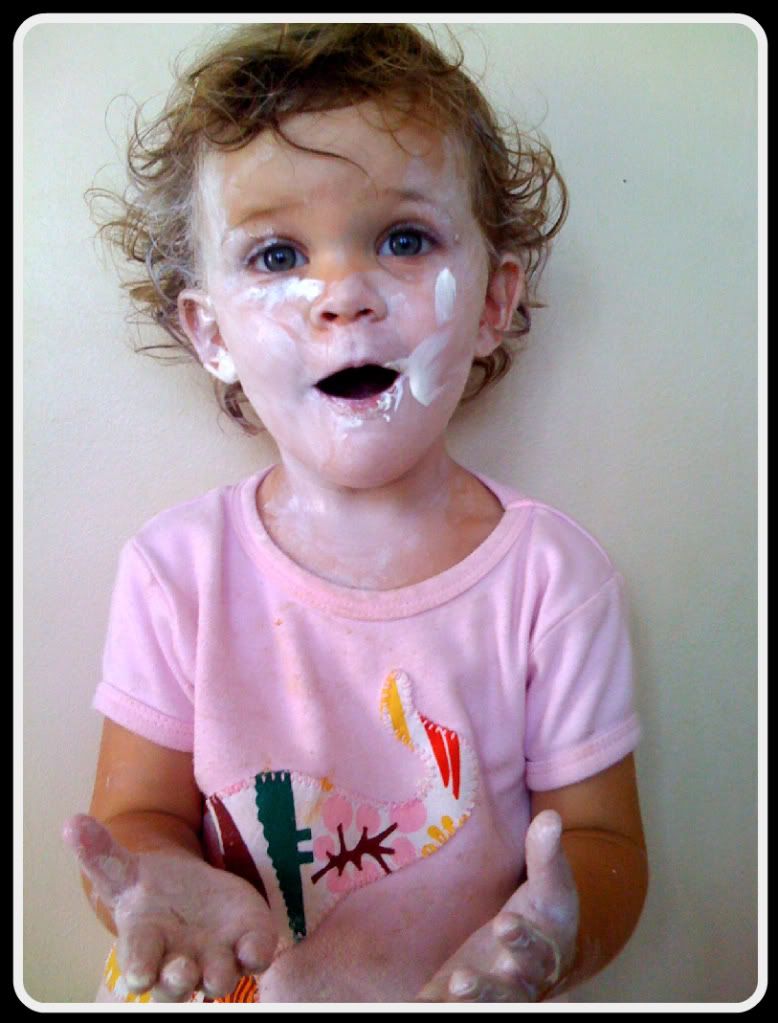 So here she is, my little Desitin Clown.
She was proud! Amazed at my composure. And she was taken over by this fishy, water repelling tube of Desitin.  Photos done, I plopped her into the tub.
Now, any one that has dealt with the real deal, old fashioned Desitin knows that it's a WATER BARRIER.  Let's look at that again…Water. Barrier. Um yeah. So how the hell do you get it off of your child's face, out of her ears and out of her hair???
Well, turns out, some genius invented baby wipes.  And guess what they do the trick!  Not on hair but they did take off most and left her only looking like she was partially suffering from early gray-ness around her hairline.
I cleaned her up, she played in the bath and a nap was had by my little Desitin Clown.
I am not quite sure just how long the smell will last, I think it's permanently in my nostrils.  And even after a shower for me, I am now looking at a streak of the pearly, WATER REPELLING, cream that is still on my arm from when she grabbed at me and fought me to keep the wonderful COD OIL infused cream on her face.
Yes, that is a moment, not a day, just a mere moment of what life can be like if you too want to work from home while taking care of your kids…stay tuned I am sure (and scared to know) that more good times like this are ahead.
**note, in the ever so wonderful time of "full disclosure" and "being transparent", Desitin did not pay me to write this or my daughter to empty a whole tube across her face, and no I did not use a free coupon when I purchase this cream at 10 p.m. the other night to handle the ultimate diaper rash. But the stuff works.  It will not let water penetrate…I learned that all to well today**