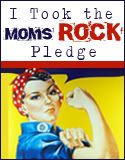 Have you taken the "Moms Rock the Economy Pledge" yet?  No? Well, after you read more and leave a link or two, head on over and take the pldge and support Mom-made and Mom-created products…after all, MOMS ROCK!!  What is Moms Rock The Economy?  Here's some more info from their site…
"Moms Rock the Economy is a concept designed by moms for moms. The basic concept is simple: Moms support mom-owned businesses online. As Twitter grows as the best medium moms have found to connect with each other, Moms Rock the Economy's mission is to support and promote Mom-Owned businesses throughout the internet.

Come take the pledge and join us in supporting moms over the internet!

Moms Rock the Economy is a creation by Leah Segedie, Chief Mom of Bookieboo and Mamavation, and Kelly Loubet, the Designer of Childhood Clothing. "
PARTY ALERT!
Moms Rock The Economy is having a Twitter party on September 17th and there will be some awesome mom-run companies taking part! My fabulous friends, the Chicks over at Chicks n Chickens will be giving away a Lullaby Exercises DVD/CD!
There's a ton of other prizes too, one will be given away every ten minutes but you've got to be there to win!  So be sure to join in the fun!  Here's more info for you so you don't miss it!
Ok, now it's your turn, share a link with me, checkout a link someone else has shared and keep the hula shake shakin'!
Have a SHAKIN' week everyone!