Tide Stain Release Booster and the Bounce Bar are cleaing up my laundry act! And guess what?!  You can win a YEAR'S Supply of BOTH!  Woohoo!  
1st up, Tide Stain Release.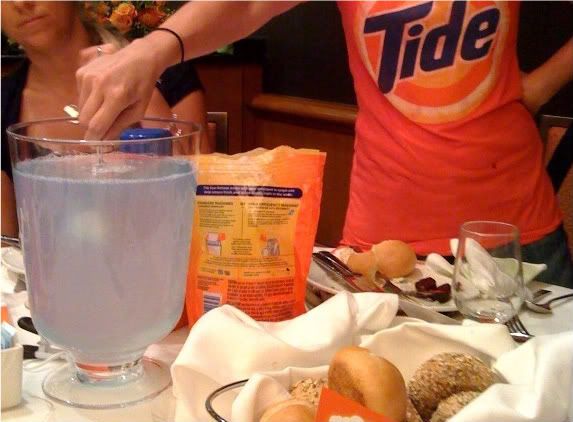 While at Blogher I had the chance to attend the Tide Luncheon.  It was an wonderful, intimate group of bloggers and folks from Tide and while eating, they introduced us to  the new Tide Stain Release wash booster . Right before our eyes they put fresh grass stains on white cloth and then had us mix the Tide Stain Release packet in some water and place the grass stain into the water for a short while.  About 10-15 minutes later we removed the cloth and the grass stain had literally disappeared before our eyes.  Without any swirling of the cloth, stirring of the water or shaking…it was pretty incredible.
If you are like me and have kids or a husband or are just a stain magnet….you'll love this! When I saw the demonstration I was pretty sold but wanted to try it on the real deal, my family.  We've been using the samples I received at Blogher and I not only loved that it made my clothes brighter and got out stains that had been sitting for far too long, but all of my clothes smelled fantastic! I went out and bought another bag and then contacted Tide to see if they'd be interested in offering a giveaway for my readers.  Thankfully they said YES! 
NOTE! This is a BOOSTER, so you use it in addition to your laundry detergent to give your wash an extra boost to get tough stains out and increase the life of your clothes.  I used the Duo -Packs, which are similar to those used in the dishwasher.  You just throw them in and you're done!  No measuring, no dripping of liquid or sprinkling of powder…I LOVE easy laundry solutions! (although they do offer it in powder and liquid).  You can grab a coupon for $1.50 off here.
B-B-B-B-Bounce Bar…
I also received a Bounce Bar while at Blogher.  This is a cool concept! It's a fabric softer bar that you stick to the drum of your dyer and forget about it!  No more dryer sheet to throw away (or find in your daughter's mouth, like mine always did) and it just makes doing laundry that much easier.  I absolutely love the smell of the Bounce Bar, that's what truly sold me on it, that plus the ease of using it, and I was a convert.  The bar should last about 4 months…think of that… FOUR months without having to even think about a dryer sheet! Love it!
Some tips to make sure the Bounce Bar is your friend…
Some people have had a problem with the Bounce Bar shattering when they dried heavy or hard objects, like shoes, in the dryer.  For items like these I'd remove the bar.  Not the housing unit, but just the bar.  It can be taken out for cycles such as shoes or cloth diapers and then slipped back in for normal loads.
My entire housing unit fell off after about a month, even with proper installation. I was bummed! My beloved Bounce Bar was bouncing around my dryer making a thud-thud-thud. I tried to re-stick it but it fell off again. Don't do this.  Once it's off, it's off and you should contact Tide if it comes off too early.  I was able to write directly to one of the lead designers with my problem and here's what she had to say…
"Choose a flat spot on your dryer drum in between two of the fins. Be sure the area is clean and dry. Remove the paper backing and place the bar on the drum facing front to back (not side to side). Press firmly. Do not attempt to remove the bar and put it in a new spot, once it has been stuck you can never re stick it. Also once it comes unstuck once don't attempt to re stick. We'll replace the bar for free. All the clanging around in your dryer could cause the bar to break apart."
I've since stuck a new bar up and so far, so good.
W

in! Win! Win!

I'm giving away a YEAR'S SUPPLY of Tide's Stain Release Wash Booster AND a YEAR'S SUPPLY of the Bounce Bar to TWO READERS!!
How to enter:
Leave a comment sharing with me the most challenging stain you've had to get out of your laundry.
Extra Entries: Leave a comment for each that you do
Become an Ohana Mama subscriber
Share this post on Twitter – one per day, per person
Become a Facebook Fan of The Ohana Mama
Grab my button or add my link to your site (button is at the bottom of my site, fyi)
Vote for me here and get an extra entry to all giveaways. You can vote once daily so you can potentially get one extra vote every single day on every single giveaway on The Ohana Mama, now until December 31st. Be sure to vote every.single.day! Just say "I voted!" in a new comment in the giveaways. Any questions? Let me know! Thank you thank you!
Deadline: October 15th
US ONLY
THE WINNER IS…
AND