Imagine this…
I'm lying on a gently rocking sail boat. The sun is washing over me. I've got one arm thrown over my eyes to avoid the sun and a smile on my face. A gentle breeze comes every now and then offering just enough relief to keep me cool but not offer a chill. Reggae is spilling out from the speakers above me, filling my ears and making my foot move to the beat uncontrollably, I love me some good reggae. Did I mention I am smiling? Yes I am oozing with glee over just how relaxed and just plain happy I am at this very moment. It's about 4 p.m. and we've just pulled back into the slip after a mini cruise around Newport Harbor…it was the perfect ending to a perfect day in paradise…California Paradise, that is.
But how did I get there…let me take you through my second day of our trip…it was fabulous!
We took the kids to the park to get some of their energy out and while there we called Grandma C to let her know that we had made it to California and told her that we were at the park. All of a sudden, who should appear, but Grandma C! Cameron flew off the swing like Superman and Leah leaped to give Grandma a hug. After a mini game of soccer Grandma suggested that we leave the kids with her and enjoy a date day. No complaints by us, I packed the kids up and away they went with Grandma.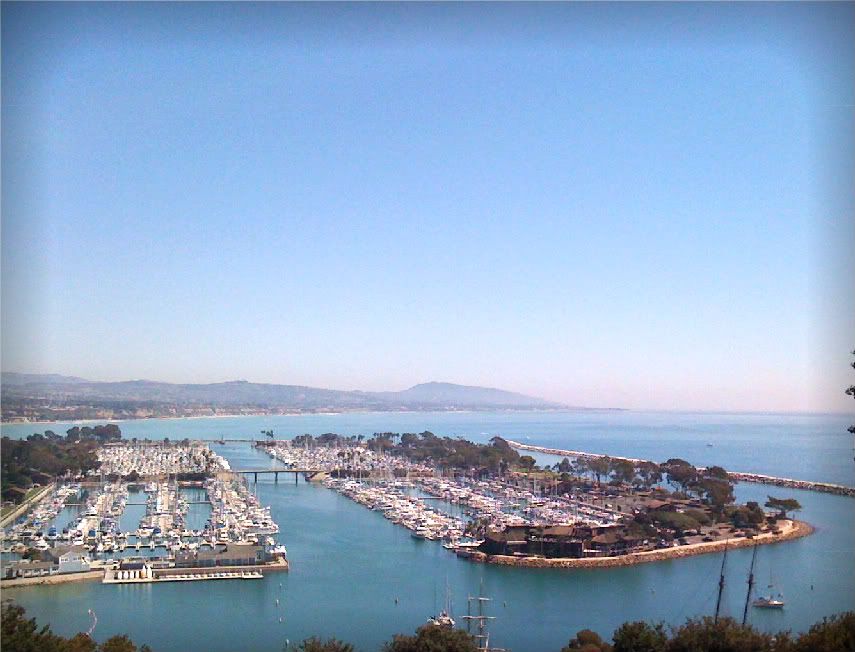 Greg and I headed to Dana Point harbor for one of my fave things, calamari steak from Harpoon Henry's. I used to work here in high school, but before that I'd come to the harbor when I was in elementary school almost every single weekend with my best friend. We'd roller skate all over the place while her parents hung out at Proud Mary's. Ah the memories… But back to my calamari steak…we sat at the bar so we were able to take advantage of their happy hour which starts at 11:30 A.M….how's that?! Happy Hour at 11:30 A.M.! So we got 50% off everything…including my glass of pinot grigio…add to that a shrimp cocktail and I was in heaven!
After our bellies were full and my head a little light from the wine (yes I am a light weight, thank you very much!), we headed up the coast for more of our ride down memory lane…
First up was a surf check at Creek (Salt Creek Beach Park). Greg and I spent our entire high school days at this beach. We were beach bums. He surfing, me laying out. It was just what you did as a teenager growing up in Dana Point. This was our old stomping grounds.
Next stop was Laguna Beach. Greg grew up in Laguna Beach and we had many a day and night spent here when we were younger. We also got married in Laguna, the perfect spot to say "I do!" We checked the waves here too and just took in the gorgeous scenery. The weather here in Southern Cal is hot right now but at the beach with the light breeze, I'd say it just might be the absolute perfect temperature. Paradise, anyone?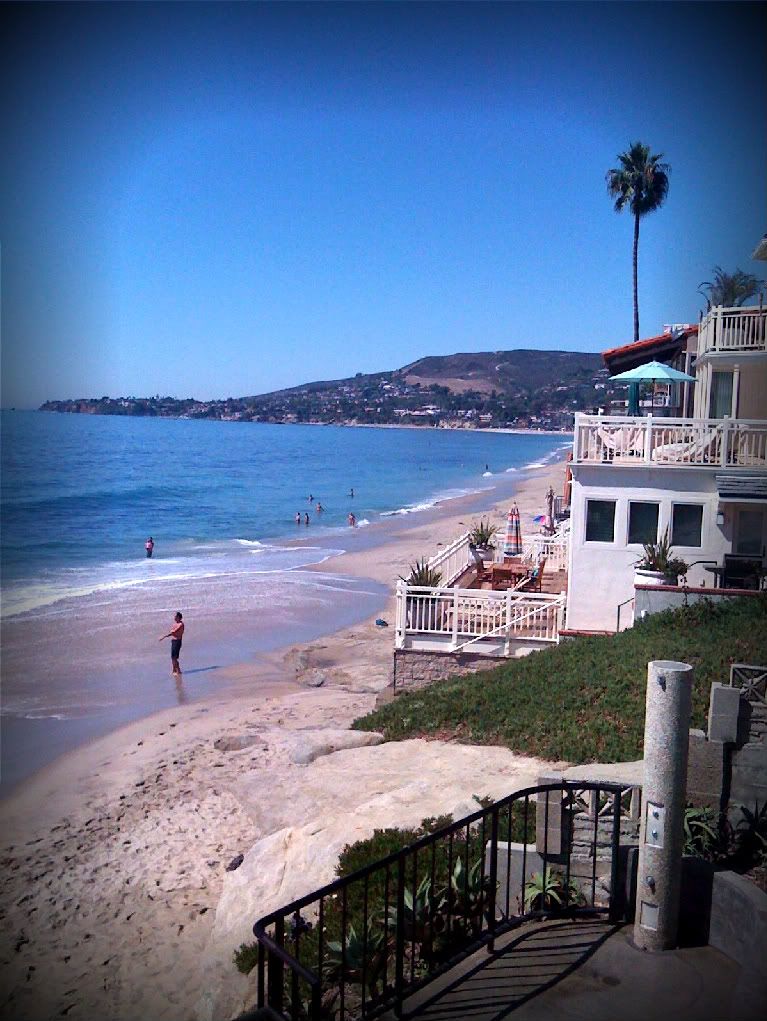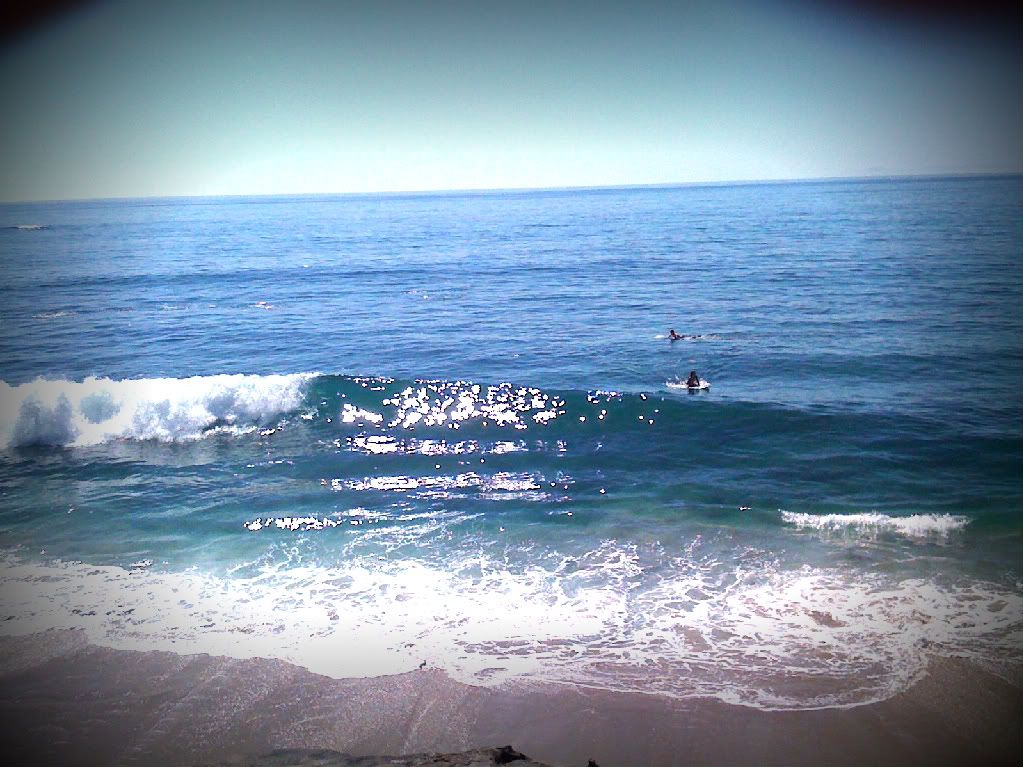 Next stop was Newport to meet my brother's new sailboat. And what a beauty it is! I grew up around sailboats. Our parents would take us out on the weekends so we all grew a great love and deep appreciation for the sea. And there's just something about being on a boat, even if just in the harbor that's so freeing and makes you want to bust out a Jimmy Buffet song.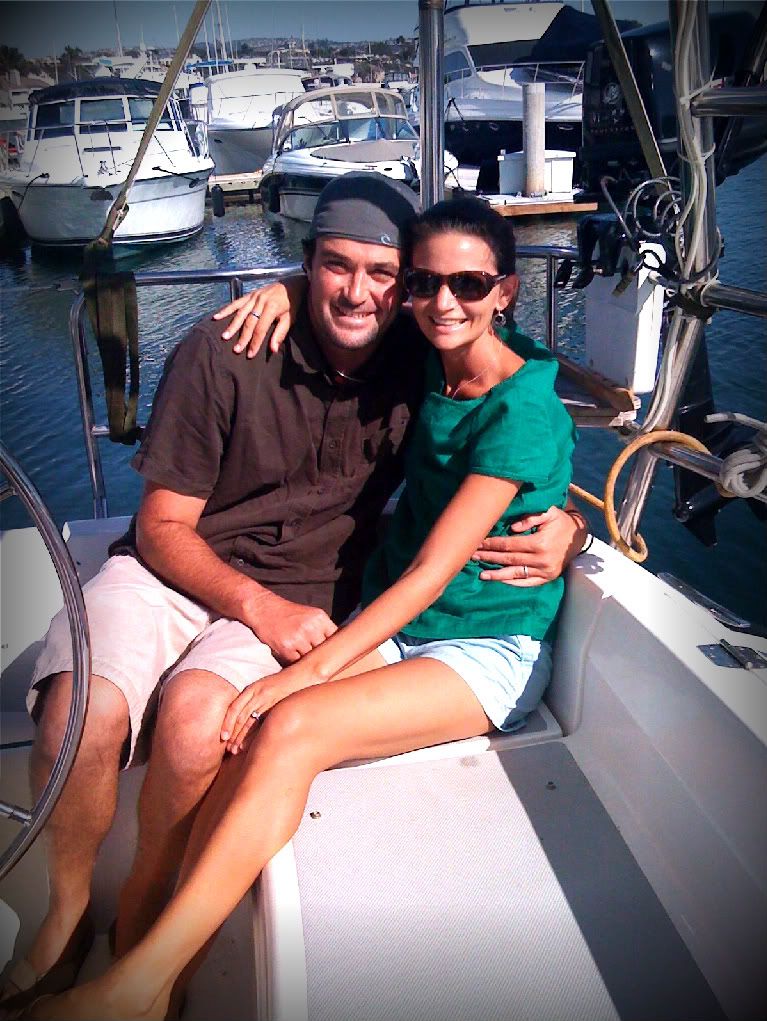 We took a quick jaunt around the Newport Harbor taking in all the magnificent houses that line the docks and oohing and ahhing over the gigantic boats that were parked on the sea.  Then we headed in and that is where I laid my head down and had "the moment". You know, those moments where you take a mental picture in your head and close your eyes as if they were shutters to that mental camera, trying to permanently remember just how happy you are at that very moment. Yeah, I had one of those.
We had a marvelous day in So Cal. It was quintessential South Orange County. We counted Mercedes…this is the land of Mercedes and BMWs and Audis, oh my! South OC is much different now than when I grew up here. The people are different. It's like Hollywood of the coast but what remains the same is the magic of the ocean that lies to the West, the gorgeous palm trees that line the roads and the absolute beauty of being with family.
Yes, it's was just another day in paradise…and boy do I feel blessed!