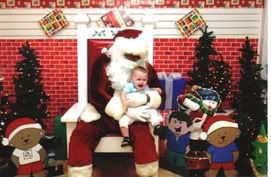 That was our first trip to see Santa in Hawaii right up there (and back in the days when I didn't blog so the photo was cropped way too small, sorry!) But as you can (sorta) see this jolly ol' fella had tanned skin, almond eyes and I am pretty sure he threw a shaka at me letting me know my son was ok. I love Christmas in Hawaii!
Here are some cool spots to go see the man in red on the West Side of Maui, be sure to check them out if you are in town for the holidays!
Hula Grill, Kaanapali, Whalers Village
From their Facebook page…
Sunday, December 19 · 4:00pm – 5:30pm

Come one, come all! Santa and his helpers will be coming to Hula Grill by canoe! We will have ornament and cookie decorating. Bring your keiki, cameras and holiday wishes.
Village Cafe & Sweet Shoppe (brand new to Kapalua!)
From their site..
Story Time with Santa
Monday, December 20, 2010 at 2pm
Thursday, December 23, 2010 at 3pm
Kids of all ages will enjoy story time with Santa along with assorted cookies and milk.
Need to get out of the heat, head on over to Lahaina Cannery Mall. Santa is there all month! And if you head over to Safeway for last minute treats, you may hear my fave Salvation Army man playing his ukulele and singing Christmas songs!
Have fun and say shaka to Mr. Claus!