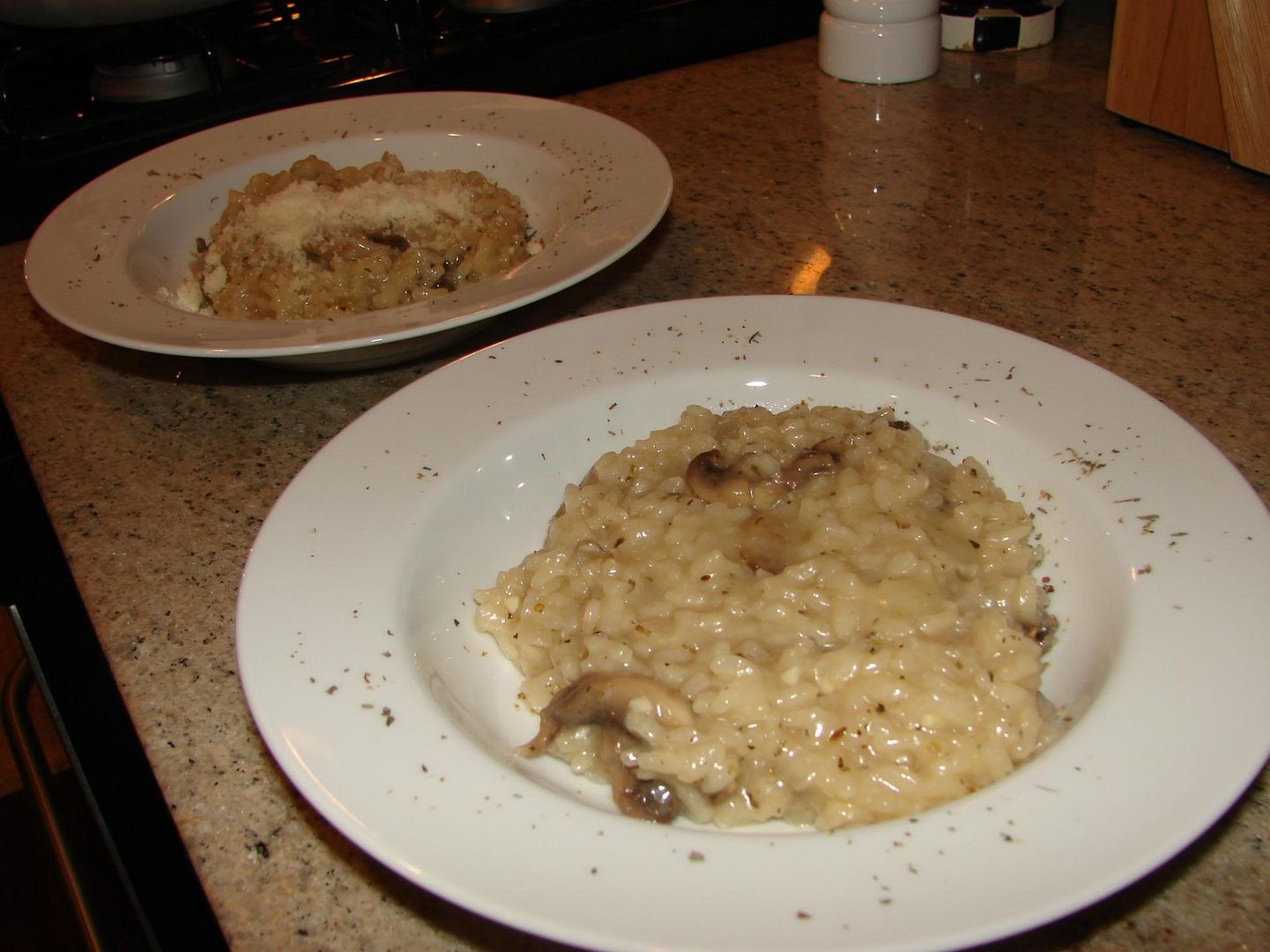 My Grandma used to make Risotto on Christmas Eve.  As she got older my older sister stepped in to keep it going.  Tonight, I will be continuing my grandmother's traditions and will be making risotto.  As will my brother and his family with my parents in Southern California and my sister and her family in Michigan.  We won't be physically together but we will all be together in spirit (and on skype at some point).
My sister wrote this awesome tutorial on Risotto and she is allowing me to share it with all of you!
Read, print it out and then give it a try! Merry Christmas Eve Everyone!
A Risotto How-to by my sis, Lara
Q: What is risotto?
I rather like the definition as found in Wikipedia:
"Risotto is a traditional Italian rice dish. It is one of the most common ways of cooking rice in Italy. Its origins are in North Italy, specifically Eastern Piedmont, Western Lombardy, and the Veneto, where rice paddies are abundant. As far as Italians are concerned, to be correctly described as a risotto a dish needs to be made following the established process described below; otherwise the dish is a rice dish, but cannot correctly be called a risotto. The main feature is the maintenance of starch at the end of cooking that binds the grains together as a cream. The ingredients vary from type to type."
Q: The most common rice used in risotto is Arborio rice. But what is Arborio rice?
Again, from Wikipedia:
"Arborio rice is an Italian short-grain rice. It is named after the town of Arborio in the Po Valley, where it is grown. Cooked, the rounded grains are firm, creamy, and chewy, due to the high starch content of this rice variety, thus they have a starchy taste of their own, yet blend well with other flavors.
Q: People often ask "Can you make risotto without arborio rice? I found this answer on http://www.ochef.com/, which I found particularly funny:
Question:
Every recipe I have come across for risotto asks for Arborio rice; can regular rice be substituted?

Answer:
Yes, and you can make truffles with carob, strawberry shortcake with Cool Whip, and your teenage daughter can go on a date this Saturday night with a member of the Hell's Angels instead of the clean-cut, reliable boy next door whom you've watched grow up over the years and is not covered with tattoos and pierced pretty much everywhere.

But the thing about Arborio rice (and the other two Italian rices that are classically used in risotto, Carnaroli and Vialone Nano) is it has a high starch content, which is released gradually as you stir in cup after cup of hot stock, resulting in the creamy texture that, frankly, is the whole point of making risotto.

You will not get that result with regular white rice. You'll have a flavored rice dish that may be delicious, but it will not be a creamy risotto. And of the three, Arborio rice is not at all hard to find — it is available in many, many supermarkets, natural foods stores, and gourmet shops.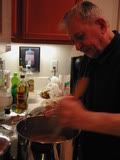 So, that's just a little background. Risotto to me is all about family, heritage and tradition. My Italian paternal grandmother, Ida (Bami Dee to me), made risotto every Christmas Eve, as her mother did before her. The special ingredient to this Risotto is that everyone takes a turn stirring the pot (that's our Papa taking his turn years ago). One of my favorite memories is of my grandma sitting on a stool stirring the pot, wiping her brow, and pulling me toward her in a big one-armed hug as she kisses my head (yeah, I am tearing up just typing this). All as she taught me the details of what I am about to share with all of you.
Anyhow, I digress. Let's get down to it ….
The following is from a recipe that I copied from my Bami Dee's handwritten recipe card. My assumption has been that this was passed down through generations prior to my grandma, but I vaguely remember my grandma searching for the original written in Italian from her mom and I don't know that it was ever found. As a result I think that this may be a combination recipe from years past, friends, etc. So, I can't really give credit where it may be due as the original source has been lost over the years. But suffice to say, this is the recipe that was made in my grandma's house, then in my parents' house, and now in my house. My grandma taught me and I taught my siblings.
You will notice that measurements are not exact, but that's just how we've always done it.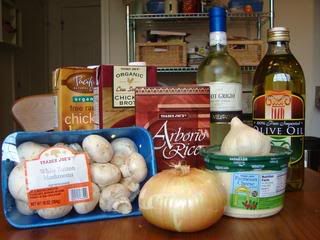 Ingredients
• Arborio rice, unwashed (2 handfuls per person + one for the pot)
• Olive oil (enough to coat the bottom of a large pot)
• One half – one whole large onion, diced (depending on total amount to be prepared, as well as preference/taste)
• Garlic, minced (to taste – I use 2-3 cloves)
• Chicken stock (hot and simmering) in a large pot, seasoned to taste with Italian seasonings
• White wine (I use Pinot Grigio or simple Italian white table wine)
o I typically use about a cup in the cooking and reserve a cup for the cook – me!
• ¼ – ½ cups grated cheese (i.e., parmesan, pecorino, asiago or some combination, per taste/preference)
• Add-ins –
o per preference (i.e., mushrooms, asparagus, tomato, chicken, shrimp or other seafood, etc.)
o I will use one large carton of white mushrooms, sliced
• 2 big pots, one ladle and large spoon to stir
After you have done all your prep work (slicing, dicing, mincing), or your husband-assistant has completed the prep, you are ready to begin.
Tip: Wearing surgical gloves will keep the garlic and onion smell off of your hands!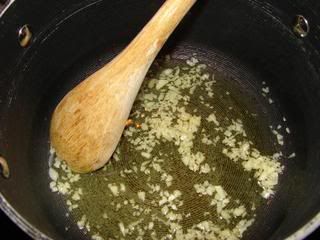 (olive oil and garlic – as my husband calls it "Italian crack")
Sweat the diced onion and minced garlic in hot olive oil, allowing the onion to soften, but not to brown. Look for the onion to almost become translucent. Then start to add your unwashed Arborio rice, 2 handfuls at a time. Stir it around until it is hot and coated with oil; keep adding until all arborio is in the pot. Don't allow the arborio to brown!!!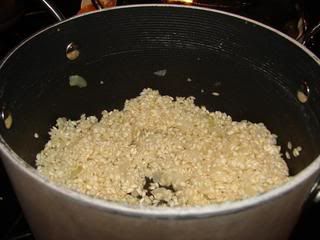 Add in approx ½ cup of white wine. Over medium heat cook the mixture, stirring constantly until the wine is absorbed.
At this stage add 2 ladlefuls of hot stock. As you stir in the stock you will notice that the arborio starts to give off starch. This starch is important. As you keep cooking you want to keep this creamy consistency. You need to maintain a fine balance. If you allow the stock to cook off, the rice becomes too dry; if you add too much stock into the rice it could boil before it's absorbed and you don't want that either. This is another reason why stirring constantly is so important. The rice should never just sit/simmer in the stock. It needs to move!
Continue stirring and adding 2 ladlefuls of stock at a time; alternate with more wine to taste. Continue to stir over low to medium heat. A temperature that is too high will burn; too low and the stock won't evaporate. Remember that the goal is to keep the arborio al dente (still with some "bite" to it) in an overall creamy dish.
Mid-stage view: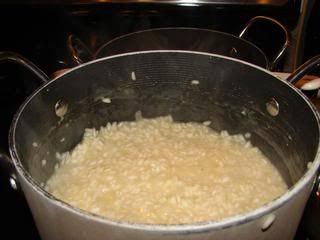 If you have ingredients to add-in, a good stage to add them is when the rice puts off the starch. The timing will vary though, depending on how long you want the add-in to cook in the rice. Keep in mind that the add-in will give off its own flavor and will "steam" in such a way that it affects the consistency of the add-in (veggies get softer, etc.).
In this instance I am adding mushrooms. I want the mushroom flavor in the risotto, but I have to keep in mind that the mushrooms will give off their own moisture. I cook the mushrooms in a separate covered pan, just letting them steam. I don't add butter or oil. Then I save them and add them at the end, right before I think we've reached the al dente stage. This time I also added in the moisture put off from the mushrooms.
View after I added the mushrooms: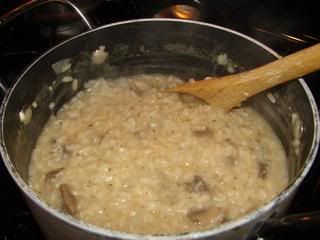 Important note – you must cook any proteins separately and then add them in as you approach the "al dente" stage. It's just safer and you can ensure that the proteins are cooked throughout.
Once you have achieved the "al dente" stage, remove the risotto from the heat and stir in your cheese. You are done! Buon apetito!
Note: Since my husband is lactose intolerant I leave the cheese out, but put it on the table so that others can add per their own preference.
We are ready to eat!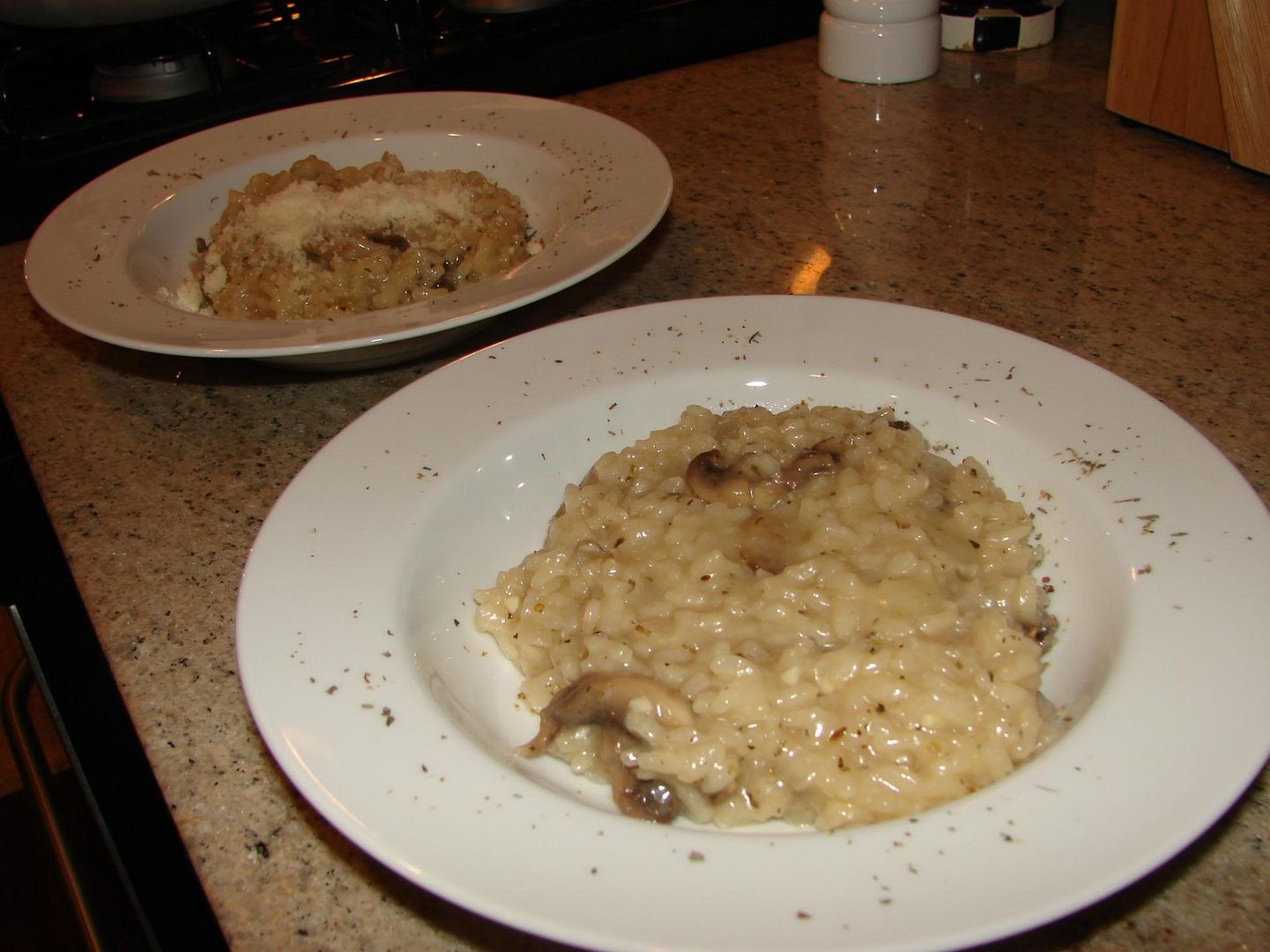 One of the best parts is having left overs and eating it the next day on Christmas.  Wish me luck in duplicating my Grandma and sister's yummy Risotto tonight!
Share!  What are your family's holiday traditions?