One of the most important parts of visiting Hawaii is enjoying the food. Here are five delicious places at Disney's Aulani Resort & Spa to start your day off right and then to satisfy your rumbling tummy after a fun day playing at the pool or swimming in the sea.
'Olelo Room
The 'Olelo Room (pronounced oh-leh-low) is a wonderful way to really dive into the Hawaiian language and culture with cast members greeting you first in Hawaiian then in the English equivalent.
Once you grab your grub you can sit and talk story with the cast members (employees) about the many shadow boxes that hang above. In each one is a wooden carving of an everyday object labeled with the Hawaiian word. For instance, they have a wooden mouse (Mickey of course!) with the Hawaiian word for mouse, 'iole, underneath.
The 'Olelo is a great option for fast, cold food. We went there for breakfast a couple of times and grabbed parfaits, muffins, fresh fruit, cereal and coffee. In the afternoon you can grab a drink and some poke or sashimi. This is a great place for the whole family to hang out and learn while you grub.
The skinny on cost: For two cereals,  two milks, a croissant and one coffee it was just under $20.
Makahiki (Mah-kah-hee-kee)
Makahiki offers a character breakfast every Wednesday & Saturday. You can enjoy the buffet breakfast filled with fresh fruit, a carving station, yogurt and granola bar, delicious egg dishes and my favorite, the miso soup (you'll see this a lot in restaurants on Oahu).
While you dine, Aunty is entertaining you with songs and fun for the kieki (kids). This is interactive so the kids will get to put fish puppets on their hands as they sing a traditional Hawaiian song with Aunty or clap together some coconut shells to help with the beat. We loved that the kids had fun stuff to do in between bites and Mom & Dad got to sit and relax.
You'll also be visited by the Disney characters right at your table. Minnie, Mickey and Goofy come and offer hugs, high fives and the perfect opportunity for some picture shots to capture the memories.
If you are wanting to do the character breakfast do call ahead as reservations are suggested (and as the hotel gets busier I think they will be required). Makahiki also offers a buffet for dinner and showcases murals painted by Hawaiian artist Al Lagunero all overlooking the beautiful Waikalohe Valley.
The skinny on cost: For two keiki breakfasts, two adults (with beverages) and we bought the photo package with Mickey it cost us just under $160.
One Paddle Two Paddle
One Paddle Two Paddle may be the best kept secret for those budget conscious visitors. Tucked behind Aunty's Beach House, this is a walk up, order and take-away type eatery. They offer delicious healthy options that packed a punch in flavor and the price is relative to anything you'd find outside the resort in Hawaii.
My favorite was the chicken lettuce wraps. It offered a ton of chicken with a super delicious slaw. My husband and I actually shared this, it was that much food. They also offer keiki meals, from fish tacos to hamburgers (served on yummy sweet Hawaiian bread), macaroni & cheese (with peas) and ready made fruit slushies.
The skinny on cost: nothing is over $15 for a meal that includes your choice of fries, taro chips, a salad or sweet potato fries as your side.
Off the Hook
Off the Hook offers pool side dining with many of the same offerings at One Paddle Two Paddle but also more! They also have a wider variety of things for the kids and a bar for mom & dad to cool down with a yummy cocktail like a Lilikoi Mojito. We grabbed chicken strips and a turkey wrap to go on our way home to the airport.
The skinny on cost: Most everything is under $15 with kids meals at $6.95. These are very normal prices for here in Hawaii plus you get to sit and catch a great view of the ocean and pool.
'AMA 'AMA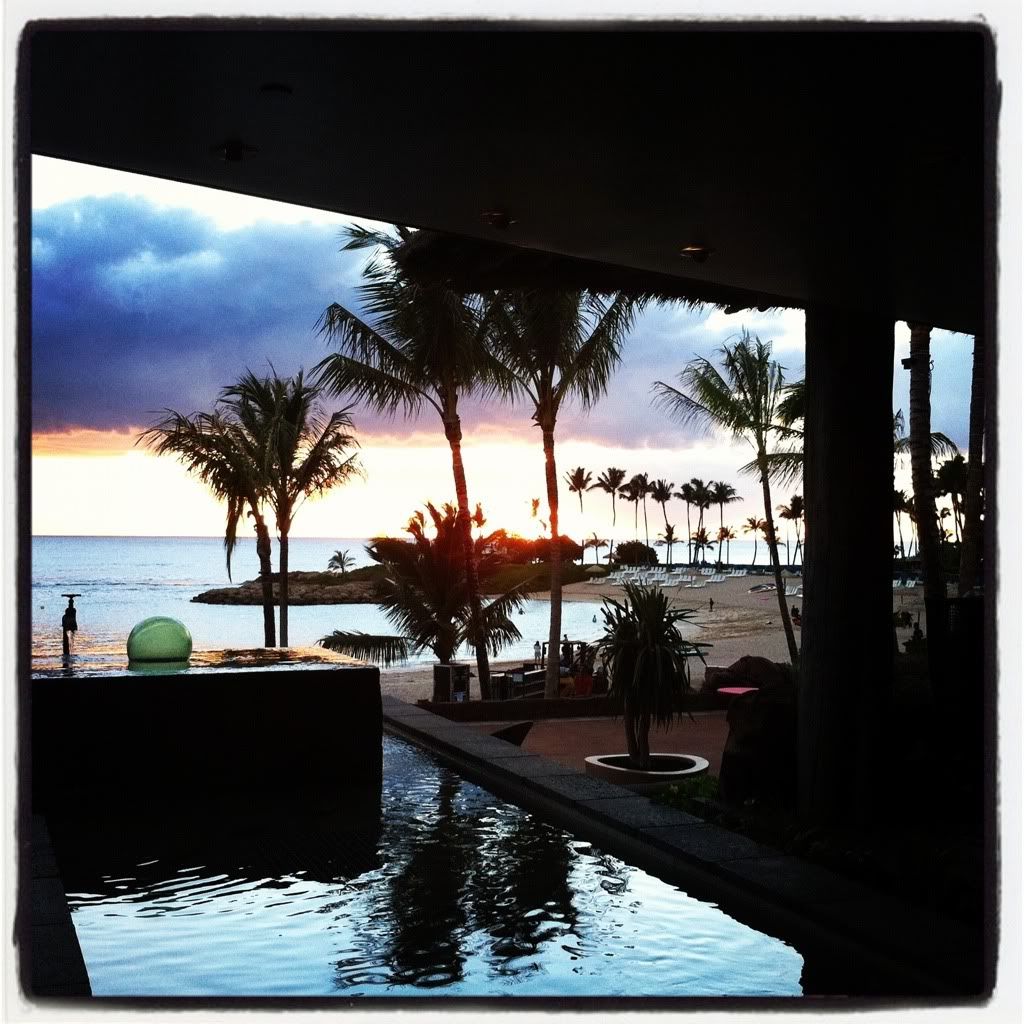 'AMA 'AMA, named after a traditional Hawaiian fish, features ocean-colored walls, a reflecting pond centerpiece and indoor and outdoor options. Perched above Ko Olina beach, the views are incredible and offer a perfect spot to enjoy the sunset.
My husband and I were able to sneak away for an hour while the kids made volcanoes at Aunty's Beach House (the kids club that's adjacent to 'AMA 'AMA). With just an hour to spare we decided to go for pupus and drinks.
Our server, Isaac, was wonderful and totally understood our time restraints. He quickly told us the pupus that would be enough for sharing. We decided on the mushroom tart with baby arugula, coriander creme fraiche and parmesan; Steamed Manila clams with smoked pork belly, lemon grass and espelette pepper; and island field greens with papaya seed vinaigrette. All was delicious!
We ordered a cheese pizza to go (which comes with desert!) and then grabbed the kids to go watch a movie on the lawn. It was perfect!
The skinny on cost: We ate all of that plus I had a cocktail for under $80. Not bad for pupus, a cocktail, dinner for the kids and an ocean view, in Hawaii.
In room dining
As with any hotel the in room dining is more expensive. My husband got a burger and pizza for the kids and it was $65. That was our first night…we soon learned of all the awesomeness listed above (for less) and never ordered room service again :).
(You can also buy things such as milk and snacks at the hotel store located in the lobby. A half gallon of milk cost $5.95)
The skinny on grub
My take? Disney Aulani Resort & Spa offers plenty of options for visitors to eat. What's better is that many offer an experience, not just food, and all of the cast members gave fantastic service!