Aulani's Resort & Spa has no shortage of water works for children and adults alike. Bob Igers, President and CEO of The Disney Corporation, said he wanted to make Disney's Aulani pool one of the best in the islands. I think it's safe to say he did quite well in achieving that goal.
Here are 5 ways to cool off at Aulani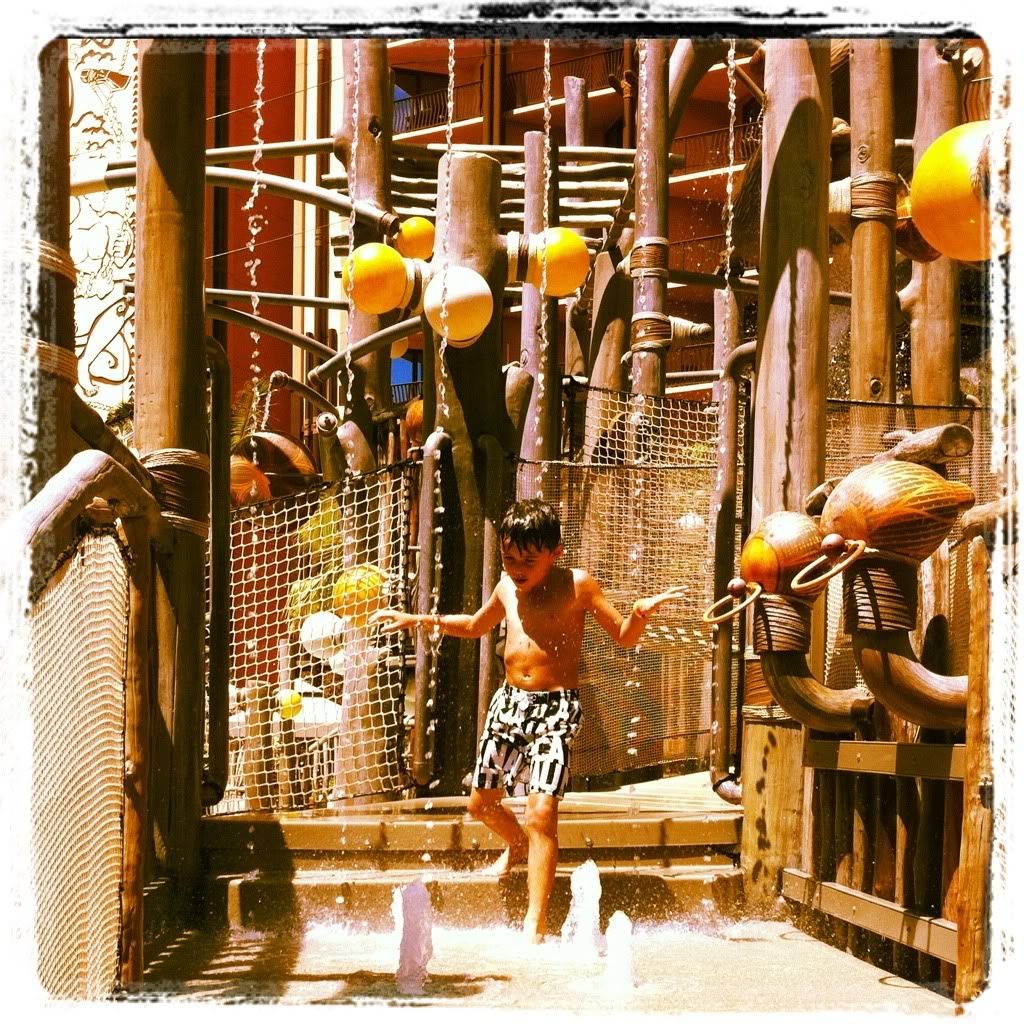 The Menehune Bridge
Said to have been built by the tiny Hawaiian mythical creatures, the menehune, this 2,200 square foot interactive water play area has three slides (each perfect size for the littler adventure seekers), stairways to net covered bridges and water-shooting gourdes.
This is definitely a place where kids can be kids and splash and scream and have lot of fun.
The Waterslides
This is where we spent most of our time. Disney Aulani has two slides that don't disappoint.
Tubestone Curl puts you in pitch darkness sans tube. It's a little bit scary, a lot of fun and my six-year old did it "about 100 times," at least that's what he says.
Volcanic Vertical is enjoyed on either a single or double tube that dumps you out to the lazy river.  We found the tube ride was great to do with my six year old as long as he went doubles. He once went in a single tube and fell off midway down. So if your little one is on the smaller side, have them go double with you and they'll love it. Plus you can get great video like this…
The Lazy River and Pools
The Waikalohe Stream is a 321,000-gallon mischievous waterway covering 900 linear feet. You can ride this lazy river with or without a tube. We had the whole family enjoying this. I'd put my three year old on my lap in a single tube while my son rode it either solo, with Dad, or swam sans tube. This was really fun and you can spot menehune under bridges as you go around.
Rainbow Reef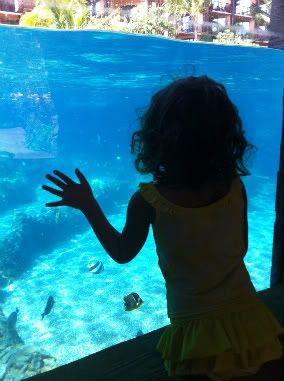 Rainbow Reef, the 3,800-square-foot snorkel lagoon offers you the opportunity to see the local fish up close and personal in a safe setting. No worrying about waves or sharks in this over-sized aquarium. What's really cool is that while one family member snorkels, the others can watch them under the water via viewing windows. We had a lot of fun saying aloha to Cameron and Daddy!
Rainbow reef is a premium service. $30 for adults and $15 for keiki.
Beautiful Ko Olina Beach
Ko Olina Beach is steps away from the Aulani grounds. The water is an effervescent color of green-blue with little to no waves lapping up on the beach. It's the perfect setting to allow mom and dad the opportunity to relax while the kids splash and build sand castles.
Guests can rent covered lounge chairs for a fee or rent an umbrella for $30. For those who are more money conscious, hit the beach either in the early morning when the sun is still behind the building or go later in the day when the sun isn't at it's hottest.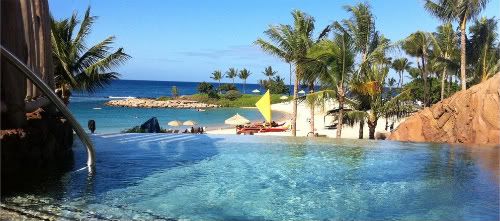 We took an early morning stroll for seashells and came upon some boxed jelly fish that had been washed up. This usually happens around a full moon on Oahu's beaches and offered  chance to learn about them form locals splashing in the waters. (always head signs for boxed jelly fish when about to swim. Sometimes they can close down beaches, although Ko Olina was fine on the day we were there.)
Water Safety
What I especially loved about Aulani is the number of lifeguards on duty. It seemed every ten feet was a lifeguard and they rotated them quite frequently so no one got tired. Aulani also offers kids life vests for free. My daughter, 3 years old, loved this and swam like a fish with Daddy in the larger pool.